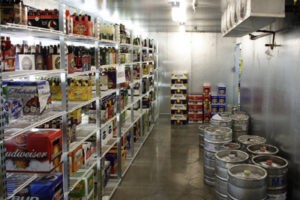 Any service industry, like convenience stores or restaurants, is enabled to keep products frozen if equipped with walk-in freezers. This is essential to succeed in business. Your equipment viability directly depends on due care and technical support. It's very important to notice the malfunction at once.
Involving the GoTech professional staff will prevent you from facing an intractable problem. GoTech Appliance Repair provides outstanding service. We offer fixed prices without overtime charges and fees.
Technical Problems with walk-in freezers can be a huge challenge for your business. Don't worry. 
The professionals at GoTech solve a large number of technical issues:
GoTech Appliance Repair company performs urgent repairs of Commercial Walk-in Freezer and cooler Repairs in Edmonton on a professional basis. Our specialists perform accurate diagnostics of the most modern and outdated models of Commercial Walk-In Freezer and cooler, restore their normal operation with the replacement of components, installation of new spare parts, test and regulate the functioning of fan coils, install new units and perform preventive maintenance.
A professional approach to the repair of Commercial Walk-In Freezer and cooler
Our specialists repair absolutely any models of Commercial Walk-In Freezer and cooler, regardless of their use-industrial production, air conditioning systems, pool maintenance, operation of food warehouses and hypermarkets, operation of laser cutting units, and printing machines, etc.
In each of the above-mentioned spheres, a cooling liquid of a strictly defined temperature is used. Normal operation of the Commercial Walk-In Freezer and cooler allows you to provide industrial and household units with a sufficient amount of cooler at the desired temperature, which in turn is the key to the intensive operation of the entire facility.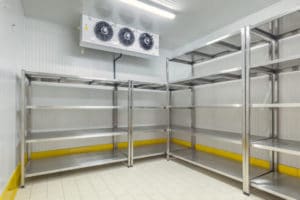 Warehouse freezer[/caption]
Our company in Edmonton repairs the following types of chillers:
Monoblock.
With a remote capacitor.
Air-cooled condenser.
With water cooling type.
Maintenance of each type of Commercial Walk-In Freezer and cooler has its own specifics. To take into account all the nuances and not to make a mistake with the cause of failure, the masters from " GoTech Appliance Repair " are helped by high qualification and extensive experience.
Commercial Walk-in Freezer and cooler repair in Edmonton-features and nuances
Repair Commercial Walk-In Freezer and cooler at the request of the client is performed in an expeditious manner. After receiving it, a team of specialists goes to the site in any area of Edmonton. Taking into account the impossibility of stopping production, the stopper in the air conditioning system and the blocking of equipment that needs constant cooling, diagnostics, and repairs are performed on-site at the customer's premises promptly.
Advantages of repairing Commercial Walk-In Freezer and cooler from "GoTech Appliance Repair ":
Time of arrival at the object-no more than 2 hours after receiving the request.
A comprehensive approach to the repair of chillers operating in a system with fan coils and supply chambers.
Extensive professional experience and high qualification of refrigeration equipment engineers.
Modern level of technical equipment of the team – devices and equipment for diagnostics, tools, and consumables for operational repairs.
Use only original spare parts and components from trusted suppliers.
Providing guarantees for all types of work performed.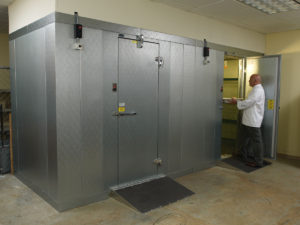 Poor Power. The blackout can be caused by a couple of reasons. Frequently, it results from a blown fuse, a powered-off circuit breaker and wiring problems. Fortunately, GoTech Appliance repair professionals are capable of fixing such problems successfully.  
Overheating. Walk-in freezers may start heating up because of overloading. Our specialists are familiar with this issue, they will solve that shortly. 
Motor Running Permanently. The constant work of a walk-in freezer can conduce the freezer leak empowering refrigerated air to flow away. This problem should be solved at once. Mind its impact not only on your appliance but also on your energy bill. 
Ice Accumulation. The buildup of ice on the vent port marks the necessity of technical support. Contact GoTech specialists to get the problem fixed. 
Ice in the Drain Pan. Because of the defective heater, the ice could collect in the drain pan. Reach GoTech experts to get rid of it.
The key to effective repair is a detailed and accurate diagnosis. When performing repairs, the available spare parts and accessories are used. If necessary, rare parts and elements are urgently ordered, which does not increase the repair period and does not complicate the client's work.
How do I order a commercial Walk-in Freezer and cooler repair in Edmonton?
Calling a team of specialists to repair a Commercial Walk-in Freezer and cooler in Edmonton is very simple. To do this, just call the phone and describe the problem. When submitting an application, you must specify the type and brand of Commercial Walk-In Freezer and cooler, formulate the problems that occurred-how the unit behaves, what happens to it, what visible defects are observed in its operation.
Our masters on the spot test the operation of the equipment and its adjacent elements-fan coils and supply chambers, check all connections, the functioning of each block and node.
The cost of repair of Commercial Walk-In Freezer and cooler is individual in each case but is formed based on the current rates in our company. The price of the repair is directly dependent on the volume of works, their details, and complexity.
Regular maintenance performed by our company will significantly reduce the cost of repairing the Commercial Walk-In Freezer and cooler. As part of the service, competent specialists regularly check and test the unit, make the necessary care manipulations. These measures allow you to prevent excessive loads and replace working elements with new ones on time, before the end of their service life.
1. Work only with professionals;
2. Fix problems without delay, this is a bad omen;
3. Use only high-quality coolant;
4. Buy spare parts from a trusted manufacturer;
5. If the master did not issue a receipt or business card, call the operator and the amount to be paid will be much less!
Note
Please note that there are no extra charges for work on holidays and weekends. If you have any questions, please call our support service.
If there is something wrong with your freezer, ask GoTech Appliance repairs specialists for fast service. We acknowledge that the walk-in freezer problems cause inconveniences for you and your business, so we will diagnose the issues and solve them at the earliest date. 
If you encounter any problems with your equipment, contact GoTech Appliance Repairs for quick and quality service. Avoid trying to solve the problem by yourself. Do not waste your time. We offer a quick fix and first-grade service. Our specialists are the best-qualified in the business.