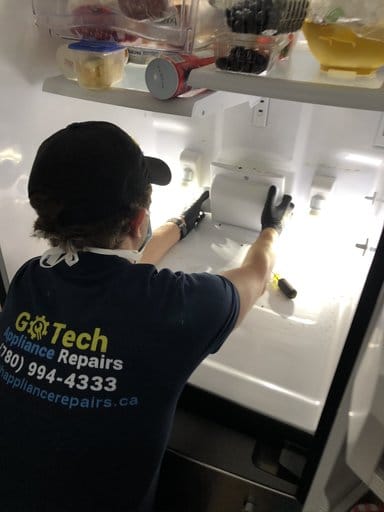 We appreciate your trust in us to repair your fridge.
Before scheduling an appointment, let's discuss the details first.
We highly recommend that you thoroughly explore our entire page. 
We created this page to assist both you and us in determining if we can provide you with the necessary repair services. It is important to go through our step-by-step process before requesting service or contacting us. 
We certainly do not want to arrive at your residence only to find that we are unable to assist you with your repair needs.
We need to confirm if we are capable of repairing the brand of your appliance.
I know you may be wondering how one company can repair all of these different brands.
The truth is that only a few manufacturers produce major appliances, such as Whirlpool, Frigidaire, General Electric, Samsung, LG, and Bosch, while other brands serve as substitutes.
If you own a Kenmore product, you may feel anxious about Sears no longer being available to assist with your Kenmore appliances. However, it's important to know that Kenmore doesn't manufacture their own appliances. They rely on companies like Frigidaire, Whirlpool, Bosch, or LG, Samsung to make for them. So, if you have a Kenmore fridge, chances are it was made by Whirlpool or LG.
I'd like to share some information with you about LG fridges. If you happen to own an LG fridge and notice that your freezer and fridge are not functioning, it's likely due to a compressor failure. This is a common issue with LG fridges due to the new compressor design.
If you have a linear compressor, we highly recommend contacting Direct LG as the compressor is covered under a 10-year warranty. Alternatively, you can reach out to Alberta Appliance, a company that specializes in LG fridge repairs and warranty work.
You can contact Alberta Appliance at the phone number provided:
North & St. Albert: 780-455-1113
Southside & Millwoods: 780-468-5540
West & Downtown: 780-482-4187
Let's determine the model number of your appliance.
If you are unsure how to locate it, please refer to our instructional video where we demonstrate where the model number can be found on each appliance.
Let's check what kind of issue your fridge has.
We identify the top two major issues that may require you to replace your fridge instead of repairing it.
Reason Number 1.
One reason to consider replacing the entire fridge if the compressor fails and you are certain that the compressor is the issue. However, if you are not completely sure that the compressor is the problem, we suggest having us come check it out first, as it could be a simple issue like a failed starter relay preventing the compressor from starting.
Reason Number 2.
If your refrigerator is leaking freon (R134A), repairing it can be a 50/50 chance. The bigger issue with this problem is locating where the leak is. If you have tried to detect the leak but are having difficulties, don't worry, we can come to your house and do our best to find it. However, please note that searching for the leak will incur an additional fee on top of the service call.
If the leak cannot be located, we can add new freon (R134A) to the system, but we cannot guarantee how long it will work. We recommend this option when a leak cannot be found as it buys time for you to shop for a new fridge.
Reason Number 2 a.
If you have a refrigerant leak and you know your refrigerant is r600, it can be difficult to find a company in Edmonton that will repair this type of coolant. The reason for this is that R600 is a flammable gas that can explode if the repair is done improperly. Therefore, we recommend that you contact your manufacturer and ask them who will do the warranty work. Then, contact that company for assistance with your refrigerant leak.
How to Request a Service Call?
If you have been unable to determine whether your compressor is working properly, or if it is leaking, and you would like a professional assessment of the problem at your home, please provide us with the following information when you contact us. This will be the final step in resolving the issue.
When contacting us please provide the following information,
Make and model number for your appliance. This is necessary so that the technician knows what he will need during the service call and bring the necessary equipment and parts.

Symptoms of the breakdown, for example, the refrigerator does not cool enough or does not turn off or if you are experiencing issues with the freezer or need service on a cooler.

Convenient time and day to book an appointment. Your name, phone number, and address.
You can contact us over the phone or send us email
What to Expect During a Technician Appointment Service Call: Press Play and Watch for Peace of Mind
Average Cost Of The Fridge & Freezer Repairs
The cost of repairing a refrigerator depends on the cause of the breakdown and the make and model of the appliance, for refrigerators of different brands, the prices for spare parts may differ significantly. Therefore, the technician will be able to quote the final repair price only after the diagnosis.
| Malfunction | Cost Per Part |
| --- | --- |
| Does not freeze | From $67.88 |
| The food is frozen in the fridge | From $77.62 |
| Does not turn OFF | From $89.99 |
| Does not turn ON | From $89.99 |
| Covered with ice | From $77.62 |
| Leaks | From $85.00 |
| Very noisy | From $55.32 |
****Prices are only for the parts/components all repairs/labour are an additional fee.****
Fridge - Freezer Repair - Gallery
GoTech Appliance Repairs
Fridge – Freezer Repair Service 
Call US (780) 994-4333
Established Company 
Fridge – Freezer Repair Master Technicians
Technicians available for same-day or next-day service
Professional technicians trained by manufacturer standards
Service provided: Edmonton, Sherwood Park,
St. Albert, Stony Plain, Spruce Grove, Leduc, Beaumont, Fort Saskatchewan, Morinville and Surrounding Areas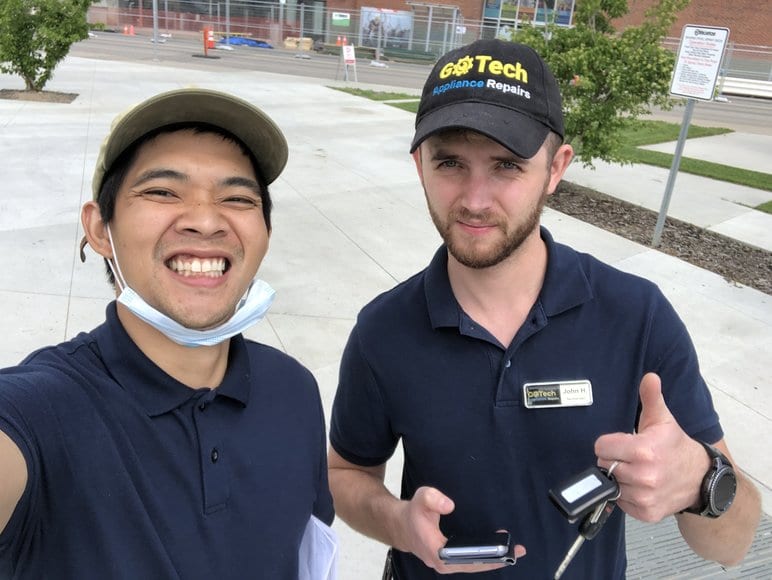 In this video you will see:
How to Diagnose a Fault with a Frost Free Fridge Freezer
Frequently Asked Question
Q. How long will the technician take to repair the refrigerator?
90% of refrigerator or freezer breakdowns are fixed within 1-2 hours. Then you can use the appliance again. In rare cases of complex faults, it may take longer. For example, when repairing a control module of a refrigerator, a specialist will need to remove it, order the part and reinstall the new part once it has arrived.
Q. What happens after a repair? Do you guarantee proper operation of the refrigerator?
Of course. After the repair has been completed, the technician  will observe for 10-20 minutes the operation of the refrigerator and make sure that it functions properly. Then the specialist will issue a receipt and warranty card for a period of 30 days up to 1 year. The warranty applies to installed parts and work carried out. In the exceptional case of repeated breakdowns (it happens rarely) during the warranty period, repair of the refrigerator is free of charge. We want our customers to be happy and offer a 100% satisfaction guarantee.
Q. How much will it cost to repair my fridge?
The expense of repairs will rely upon the issue and the parts expected to finish repairs. By and large, repairs generally cost somewhere in the range of $200 and $400. 
Q. How long will my refrigerated food stay fresh without electricity?
The most imperative thing to remember is to keep your fridge closed during this time. It will help keep the temperature low for as long as possible. Ordinarily, if your fridge is half full, your food ought to be ok for up to 24 hours. 
Q. What should I do if my fridge gets too hot on the outside?
The reason behind this problem is damaged or broken door seals. If the doors on your fridge do not shut properly, your fridge can be continually cycling. This creates a lot of heat. If the door seals are in working order, a technician can run a full diagnostic and find the exact cause of the problem. 
Q. How frequently does my refrigerator require cleaning? 
Cleaning your fridge every 2 to 4 months is always a good idea. Make sure to keep your food sealed properly to prevent spills and to regularly throw expired food and drinks away. 
Q. How regularly does my fridge need defrosting? 
Fridge repair specialists concur that your fridge ought to be defrosted once every year. Be that as it may, you may discover the need to do it all the more regularly relying upon how much ice develops. 
Q.  For what reason is my fridge making loud noises?
You may hear some noises from a brand new fridge in the beginning, but if you notice it continually makes loud noises, you may need to investigate the problem. Ensure your fridge is level and that it is not inclining to the other side. Also check the surroundings of the fridge, if an object is laying or put away over the fridge that could be making additional noise because of the typical vibrations of the motor. If neither of these handy solutions takes care of the issue, call a professional technician for help. 
Q.  How do I get that bad smell out of my fridge?
Your refrigerator can accumulate different scents after some time. This is the reason it's so critical to clean it consistently. On the off chance that an odour lingers, place an open box of baking soda on the inside. This will help to absorb any unwanted smells. If this does not tackle the issue, ensure that there's nothing caught under your refrigerator or maybe the smell has another source  (like the waste). 
Q. What do I do if my fridge is not getting cold enough?
In the event that your cooler isn't remaining cool, there could be a few  causes. An expert ought to be called to check different working parts, including the thermostat. 
Q. Would you be able to reuse an old fridge? 
Your refrigerator and cooler utilize freon alongside different substances that exhaust the ozone. It is best to have an expert specialist empty these substances out of the appliance as opposed to just dumping it. There are several organizations that will collect your appliance and follow proper recycling protocols. 
Q.  What is the ideal temperature for your fridge?
Your fridge ought to be set to 32-40° F (0-4 degrees Celsius) thus ensuring your food remains fresh and guarantee that the appliance isn't exhausted.
Q.  Who will perform the repairs on my fridge?
Our experts are both prepared and experienced to perform dependable and quick refrigerator repairs on all brands and models.
Q. What if my fridge breaks again shortly after repairs?
If your refrigerator experiences the same problems after our technicians have completed repairs, you can rely on our satisfaction guarantee. In other words, you will not need to pay a cent and we will work quickly to resolve the matter.
Q.  What if parts are needed to complete the repairs?
When you contact our team, we gather the details regarding your model and brand of fridge. This ensures our technicians come prepared and arrive with the necessary parts to complete repairs immediately. In some cases, parts may need to be ordered, the technician will advise of the time it will take to finish the repair. 
Q.  Do you offer fridge repairs on weekends?
We offer fridge repairs in Edmonton and the surrounding areas 7 days a week! Regardless of when your fridge gives you trouble, you can depend on our team to arrive and perform repairs instantly. Call (780) 994-4333 when you require urgent and reliable fridge repairs.
GoTech Appliance Repair
Fridge Repair Service 
Established Company 
 Fridge Repair Master Technicians
Technicians available for same-day or next-day service
Professional technicians trained by manufacturer standards
Service provided: Edmonton, Calgary, Sherwood Park,
St. Albert, Stony Plain, Spruce Grove, Leduc, Beaumont, Fort Saskatchewan, Morinville, and Surrounding Areas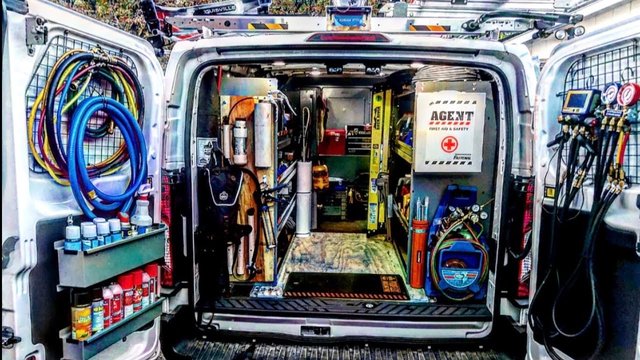 Sep 10, 2023
Fridge repair
Just had our refrigerator looked at by such a delightful young technician, John H. So pleasant, courteous and knowledgeable. Appreciated his honesty and time he took to explain everything to me. I would definitely recommend this company to anyone.
Sep 5, 2021
Right to Repair!
My Dacor oven was not heating properly. The baking element was not working. So, I went through numerous Youtube videos and repairs guides thinking it could be a quick fix. I tried the two easy fixes that I was capable of, but they did not work and I knew I needed a professional! I get right irritated when I am told the part I need is discontinued or the repairman does my same YouTube fixes and states "there is nothing more I can do, you need to buy a new appliance". Not so at GoTech! John is an electrician by trade so he can "see" your appliance differently, he spotted a short on my motherboard, whipped out a small replacement part, soldered it on, and "Viola" my oven works! Now John explained in great detail that yes the motherboard in my oven is discontinued, and he cannot guarantee his electrician genius will do the trick, but the cost of him giving it a try far outweighed me buying a new oven. Besides being a smart technician, problem-solving above and beyond what he needed to do, he is a wonderful human being and a great conversationalist! I took many business cards to hand out to friends!
Aug 8, 2021
Service on Maytag refrigerator
Diagnosis and replacement of the defective part was done quickly. Repairman was at my house within 24 hours, arrived on time, and repairs were finished in about an hour.
Aug 7, 2021
Great service
I was able to book a same day appointment, the technician (John) was very professional and explained the repair and costs in detail. They had the repair part and my appliance was fixed that day. Quick, and professional service, thank you so much.
Aug 5, 2021
John showed up at the scheduled time and was a complete professional and extremely helpful with our questions. We discussed our future plans for appliance
replacements and he offered some good suggestions which we will keep in mind when making our future purchases.