Appliance Repair Edmonton - A Trusted Local Company
Our GoTech Appliance Repair Edmonton company started from our grandfather's handyman skills of taking apart and repairing broken electrical appliances. His ability to diagnose and repair many brands and models, while always giving his honest opinion, made him a trusted and reliable appliance man within the local community. Over the decades he built and grew the company with his family to provide outstanding Edmonton appliance repair services with trusted and professional technicians. Our core values include a commitment to finding a solution, building trust with using GoTech Appliance Repair Edmonton Experts, and providing long-lasting repair services. These core values have helped us to continue to succeed over the years and to retain customers who continue to use our company over the span of 40 years.
We Offer Same / Next Day Service or a Day Convenient To You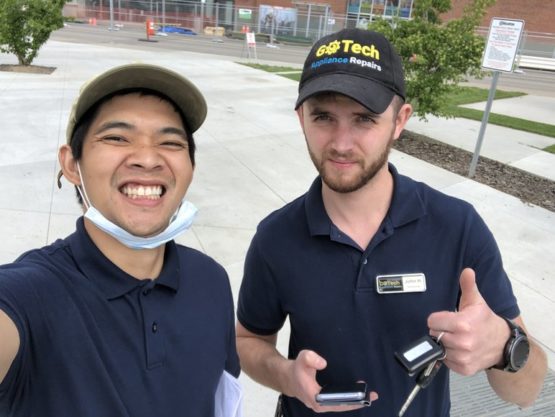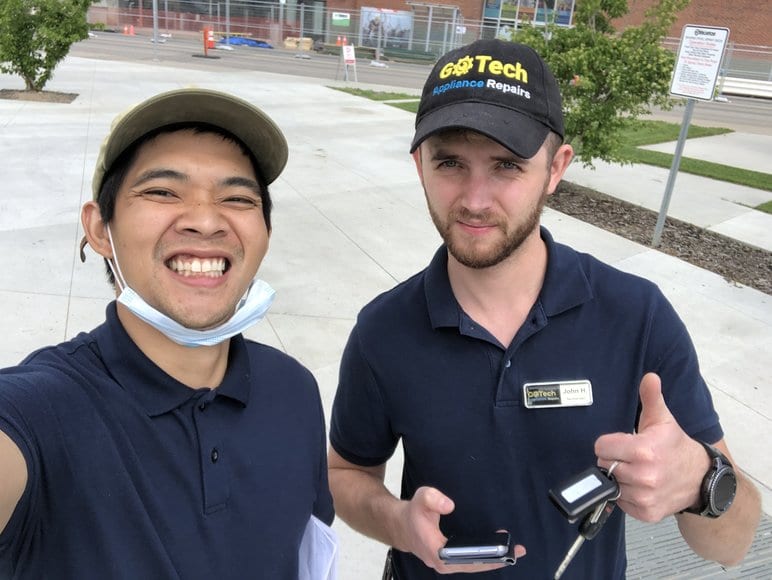 As a leading Edmonton appliance repair company, we provide household appliance diagnostic and repair services. Our master technicians provide a complete and thorough diagnostic of your appliance in order to fully understand how the appliance is functioning and what issues are causing the breakdown. The technicians will be able to have a solid idea if the appliance is repairable and what the associated cost would be for a complete appliance repair. Our GoTech appliance repair edmonton service includes using original parts from trusted distributors and then running a complete test cycle to ensure the appliance resumes normal functioning once again.
Our family-owned GoTech appliance repair edmonton business has given us the experience to keep our standards high and offer services that set us apart from our competition. We, not only service households, but we also provide property management and rental property services in Edmonton and surrounding areas.
In-home Edmonton Appliance Repair service:
We are available for same-day appliance repair services or any other day that is convenient for you. 
Count on us to always be prepared, provide quality service, our technicians carry many of the replacement parts necessary to repair common problems.
Our technicians are experienced with performing appliance repairs on many brands and models of different appliances.
We treat every appliance like it's our own and value our client's homes and appliances. So, each appliance is given a full diagnostic and repaired to a high standard supported by our warranty. 
Appliances we service stove, oven, refrigerator, freezer, dryer, washing machine, dishwasher, ice makers, gas stove
We understand that flexibility is key to our client's lives, for that reason we work evenings, weekends, and holidays at no extra cost to you.
Why It's Important To Hire Professionally Trained Appliance Repair Technicians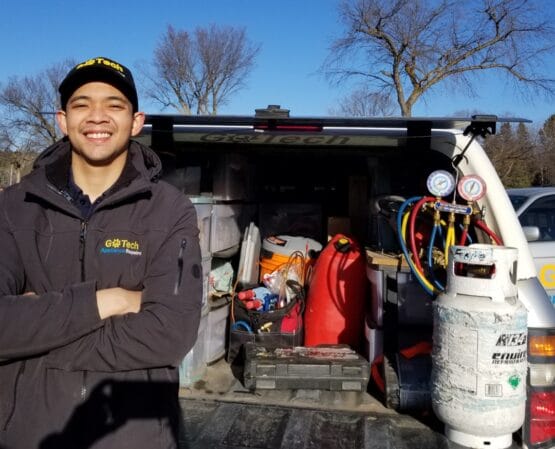 It is very important to hire professionally trained, efficient, and detailed oriented technicians. They have many years of experience working with all brands of major home appliances and can diagnose the issue right the first time. So this experience allows them to be efficient with time but thorough with finding the cause of the problem. Additionally, professional technicians are also fully equipped with all the necessary tools and parts that are needed to repair the most common issues. These are just a few of the skills needed to work for our appliance repair company because we understand that when you invest in hiring the right technicians, you are reinvesting in the success of our family business. The Edmonton appliance repair company business is filled with third-party contracted technicians, they do not have the necessary warranty to protect themselves or their customers. Thus, any damage or incomplete repairs fall on the customer's shoulders.
Edmonton Appliance Repair
How to request an appliance repair service call and what to expect
The first step is to call our GoTech appliance repair edmonton company at (780) 994-4333, our office staff will collect all the necessary details such as the brand of appliance, the model number, and the issue the appliance is having. Furthermore, this allows the technicians to carry the most common faulty parts for each brand and eliminates the need to make a second trip to your home. Sometimes we don't have the parts on hand and a second trip is necessary, there is no second service call fee. In addition, our appliance repair company provides parts and labour warranty for all repairs for up to one year. In conclusion, we have been consistently rated and referred for being an efficient, prompt, and affordable appliance repair company. After all, we treat each client's home as if it were our own and strive to provide quality customer service. 
Free No - Obligation Quote, Over the Phone, Call Us!
Press Play and Watch This Short Video: What To Expect From Our Appliance Repair Experience
Frequently Asked: Appliance Repair Questions
What is the average cost of an appliance repair in edmonton?
We strive to be affordable for every client's budget. Thus, we advise clients of all fees upfront so there are no hidden surprises. When you schedule a diagnostic call from our appliance repair company we charge a service fee to come to your home and diagnose the issue with your appliance. This service fee is a separate fee and is charged regardless if any repair work is done or not. After the diagnostic, the technician is able to understand the cause of the issue and if repairable, can give you a quote for the cost of the repair, this quote will include both parts and labor fees. We do not move forward with any repair work without the consent of the client. We also don't have an hourly fee and each repair is based on the project needed to fix the appliance. 
Can We Buy Our Own Part For You To Install?
We are not able to install parts bought by clients. This is due to warranty issues because we cannot guarantee the part and thus are not able to offer any warranty to the client for the repair.
Do You Waive The Service Call Fee If We Go Ahead With The Repair?
The service fee is based on the technicians coming to your home and doing a diagnostic on the current cause of the issue with the appliance. It is a separate fee and we do not waive the service calls fee. Our prices are competitive within the market and our technicians' standards are high for each client no matter what the cost. We have noticed that our competitors who waive the service fee have higher fees for labor and parts to make up for the waived service calls.
What Type Of Payment Do You Accept?
We accept credit cards (Visa, MasterCard) Debit, and Cash.
Most Reliable Appliance Brands for 2021
GoTech Appliance Repair Edmonton
Established Company 
Your appliances are in good hands with our professional technicians, regardless of the issue. Don't hesitate, with speedy, dependable services at affordable prices, there are many reasons why your number one choice should be GoTech Appliance Repairs. 
Whirlpool, KitchenAid, Maytag, Amana, Jenn-Air, Admiral, Ikea, Inglis, Speed Queen, Roper, GE, GE Profile, GE Monogram, Hotpoint, Beaumark, Moffat, Frigidaire, Electrolux, Westinghouse, Kelvinator, Tappan, Kenmore, Samsung, Dacor, LG, Bosch, Thermador,Viking, Miele, AEG, Fisher & Paykel, Sub-Zero, Wolf, Magic Chef
Average appliance lifespan with Best Care Tips
Washers and Dryers Repair Edmonton
Stove & Oven Repair Edmonton
Induction Cook Top Repair
Client Testimonials Working With Our Company
Sep 5, 2021
Right to Repair!
My Dacor oven was not heating properly. The baking element was not working. So, I went through numerous Youtube videos and repairs guides thinking it could be a quick fix. I tried the two easy fixes that I was capable of, but they did not work and I knew I needed a professional! I get right irritated when I am told the part I need is discontinued or the repairman does my same YouTube fixes and states "there is nothing more I can do, you need to buy a new appliance". Not so at GoTech! John is an electrician by trade so he can "see" your appliance differently, he spotted a short on my motherboard, whipped out a small replacement part, soldered it on, and "Viola" my oven works! Now John explained in great detail that yes the motherboard in my oven is discontinued, and he cannot guarantee his electrician genius will do the trick, but the cost of him giving it a try far outweighed me buying a new oven. Besides being a smart technician, problem-solving above and beyond what he needed to do, he is a wonderful human being and a great conversationalist! I took many business cards to hand out to friends!
Aug 8, 2021
Service on Maytag refrigerator
Diagnosis and replacement of the defective part was done quickly. Repairman was at my house within 24 hours, arrived on time, and repairs were finished in about an hour.
Aug 7, 2021
Great service
I was able to book a same day appointment, the technician (John) was very professional and explained the repair and costs in detail. They had the repair part and my appliance was fixed that day. Quick, and professional service, thank you so much.
Aug 5, 2021
John showed up at the scheduled time and was a complete professional and extremely helpful with our questions. We discussed our future plans for appliance
replacements and he offered some good suggestions which we will keep in mind when making our future purchases.
Aug 4, 2021
My Whirlpool fridge was running constantly. John skillfully diagnosed the problem, described in detail how the system should work, and explained which part needed replacing. He was also honest when it came to keeping the current fridge vs buying a new one. I would highly recommend GoTech and John to anyone requiring their appliance serviced.
All Across Edmonton and Surrounding Area