We Repair Amana Appliances The Right Way in Edmonton
We Repair Amana Appliances The Right Way in Edmonton

Amana Appliance Repair Edmonton. There are a lot of people who chose the Amana brand and use their home appliances. These household items are a big help in everyday tasks. The appliances produced by Amana are reliable and durable. Besides, the price is also rather attractive. Nevertheless, even the best equipment breaks sometimes and this happens to Amana appliances as well. Instead of rushing to the shop or frantically searching the Internet for a new fridge or washer, call GoTech Appliance Repair. We work in Edmonton and the surrounding area and provide our repair services seven days a week. Whether the break down you have is big or small, we have skillful specialists who can fix it fast and for a reasonable price. Call us if you need our repair help!
Our company provides services:  Sherwood Park, Fort Saskatchewan, Devon, Spruce Grove, Stony Plain, St. Albert, Morinville, Gibbons, West & North & Southside Edmonton, Beaumont, Leduc.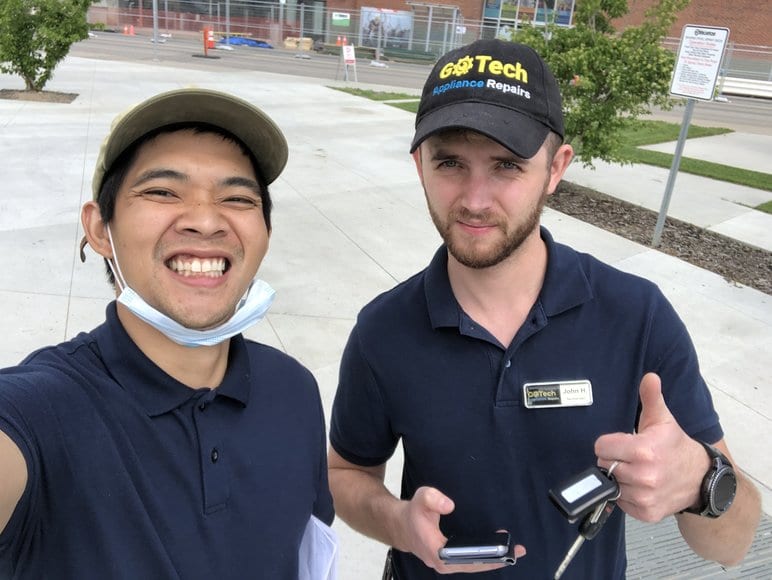 Amana Fridge Repair Edmonton
Amana Dishwasher Repair Edmonton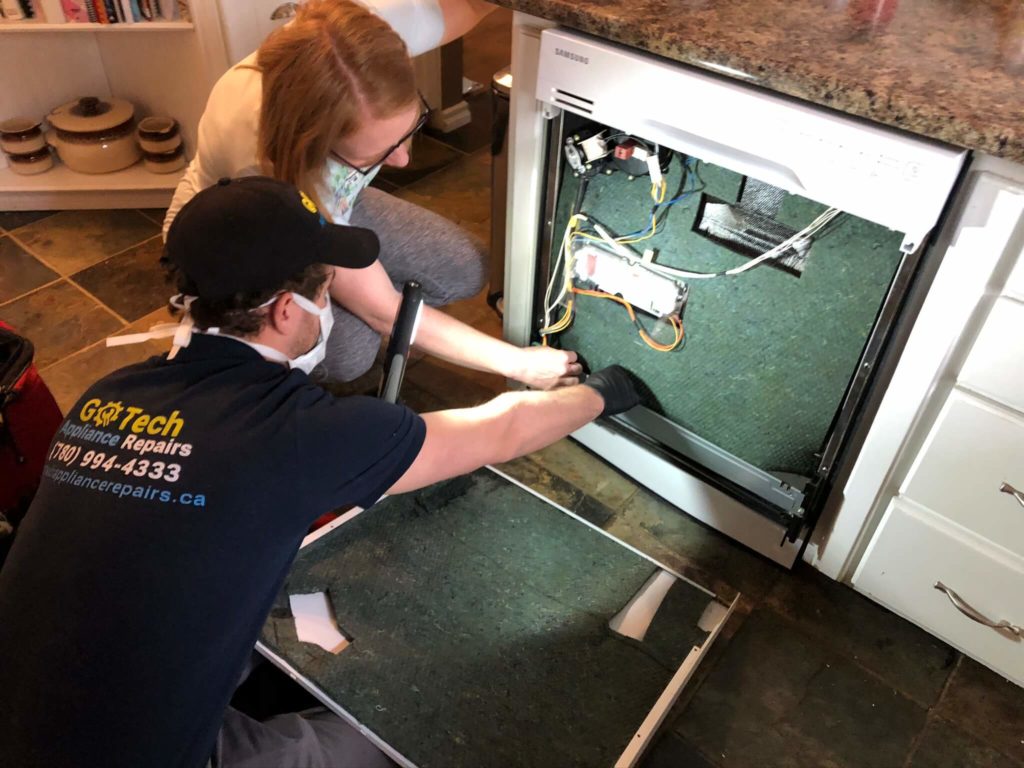 Amana Stove - Oven Repair Edmonton
Amana Washing Machine Repair Edmonton
Amana Dryer Repair Edmonton
GoTech Appliance Repairs – Edmonton 
Amana Appliance Repair Service
Edmonton  (780) 994-4333
Established Company 
Amana Appliance Repair Edmonton
Technicians available for same-day or next-day service
Professional technicians trained by manufacturer standards
Service provided: Edmonton, Sherwood Park,
St. Albert, Stony Plain, Spruce Grove, Leduc, Beaumont, Fort Saskatchewan, Morinville, and Surrounding Areas
Most Common Error Codes For Amana Appliance
Most Common Error Codes For Amana Appliance
Amana Stove / Oven / Range Fault Codes
F0-0 – No Error. Initial factory setting
F1-1 – Over temperature during cooking
Check oven temperature sensor and wiring. Replace control board if oven temperature sensor is not faulty
F1-3 – Over temperature during cleaning
Check oven temperature sensor and wiring. Replace control board if oven temperature sensor is not faulty
F1-5 – Cancel key input out of range
Control board replacement
F1-7 -Keyboard disconnected
Check wire connection is tight. Replace control if failed
F1-8 – Shorted key
Control board replacement
F1-9 – Malfunctioning slave micro.
F1-A – Grounding circuit board.
Control board replacement
F1-C – Control not calibrated
F1-E – Circuit board data corruption
F1-F – Circuit board data corruption
F1-H – Door switch input circuit failure
F1-J – Latch switch input circuit failure
F3-1 – Oven temperature sensor or oven temperature sensor circuit failure
Check oven temperature sensor and wire connections
F9-1 – Auto latch not locking
Check motor, wiring, and latch switch
F9-2 – Auto latch not unlocking
Check motor, wiring, and latch switch
dET – Detergent cartridge not detected in the dispenser.
Ensure the dispenser cartridge is inserted correctly and the dispenser drawer is shut completely.
Int – The cycle was paused or canceled.
The washer may take 20 to 30 minutes to stop spinning and drain, and will display this error code during that time.
rL or F34 – Items were detected in the washer during the Clean Washer cycle.
F5 E2 – The door is not locking correctly.
F8 E1 or LO FL – The washer is sensing a low flow of water.
Press the Pause or Cancel button twice and the Power button once to clear the code.
F8 E2 –  a problem with the Dispenser System
F9 E1 – Indicates that drain times are longer than expected, typically over 8 minutes.
AF or  F4, E3 – Restricted air flow. Touch any key to clear the code from the display and return to the estimated time remaining. 
L2 – Low or no line voltage.The dryer will continue to run when this diagnostic code is present. 
PF – Power failure. It shows that the drying cycle has been interrupted by a power failure. Touch and hold START to restart the dryer cycle or press POWER to clear the display.
Recent Customer Reviews in Edmonton
Sep 5, 2021
Right to Repair!
My Dacor oven was not heating properly. The baking element was not working. So, I went through numerous Youtube videos and repairs guides thinking it could be a quick fix. I tried the two easy fixes that I was capable of, but they did not work and I knew I needed a professional! I get right irritated when I am told the part I need is discontinued or the repairman does my same YouTube fixes and states "there is nothing more I can do, you need to buy a new appliance". Not so at GoTech! John is an electrician by trade so he can "see" your appliance differently, he spotted a short on my motherboard, whipped out a small replacement part, soldered it on, and "Viola" my oven works! Now John explained in great detail that yes the motherboard in my oven is discontinued, and he cannot guarantee his electrician genius will do the trick, but the cost of him giving it a try far outweighed me buying a new oven. Besides being a smart technician, problem-solving above and beyond what he needed to do, he is a wonderful human being and a great conversationalist! I took many business cards to hand out to friends!
Aug 8, 2021
Service on Maytag refrigerator
Diagnosis and replacement of the defective part was done quickly. Repairman was at my house within 24 hours, arrived on time, and repairs were finished in about an hour.
Aug 7, 2021
Great service
I was able to book a same day appointment, the technician (John) was very professional and explained the repair and costs in detail. They had the repair part and my appliance was fixed that day. Quick, and professional service, thank you so much.
Aug 5, 2021
John showed up at the scheduled time and was a complete professional and extremely helpful with our questions. We discussed our future plans for appliance
replacements and he offered some good suggestions which we will keep in mind when making our future purchases.
Aug 4, 2021
My Whirlpool fridge was running constantly. John skillfully diagnosed the problem, described in detail how the system should work, and explained which part needed replacing. He was also honest when it came to keeping the current fridge vs buying a new one. I would highly recommend GoTech and John to anyone requiring their appliance serviced.
Do You Have A Broken Amana Appliance Repair Edmonton ?
Pick Up The Phone And Call Us!