Repair Of Household Dryer in Edmonton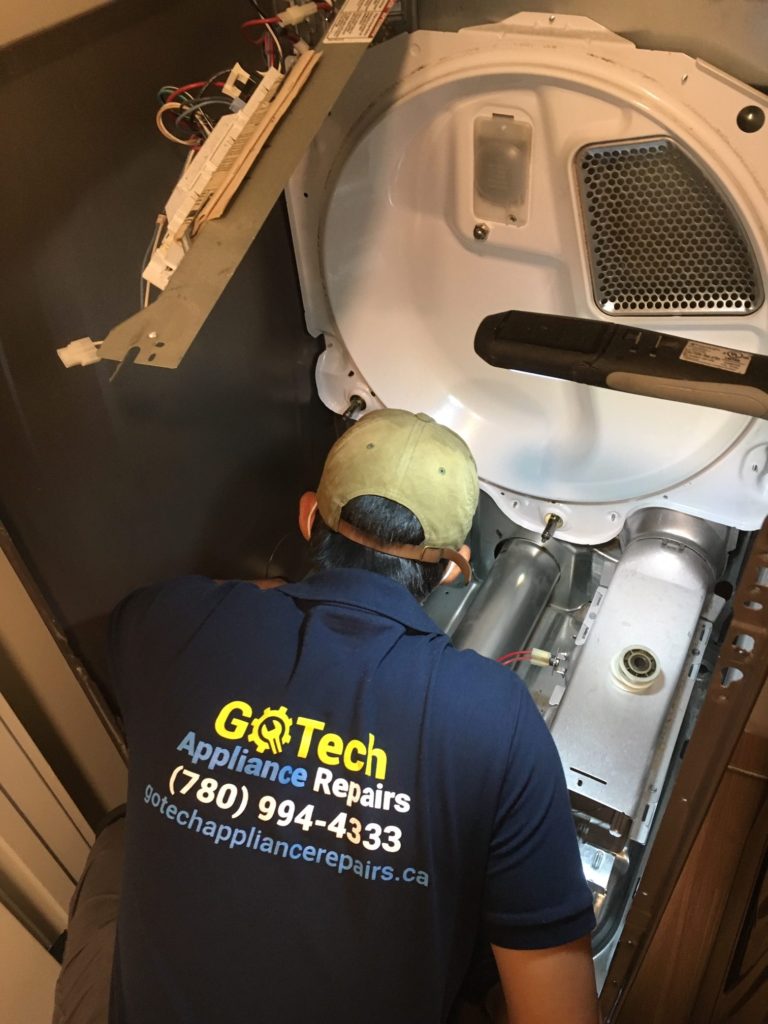 We appreciate your trust in us to repair your dryer.
Before scheduling an appointment, let's discuss the details first.
We highly recommend that you thoroughly explore our entire page. 
We created this page to assist both you and us in determining if we can provide you with the necessary repair services. It is important to go through our step-by-step process before requesting service or contacting us. 
We certainly do not want to arrive at your house only to find that we are unable to assist you with your repair needs.
We need to confirm if we are capable of repairing the brand of your appliance.
I know you may be wondering how one company can repair all of these different brands.
The truth is that only a few manufacturers produce major appliances, such as Whirlpool, Frigidaire, General Electric, Samsung, LG, and Bosch, while other brands serve as substitutes.
If you own a Kenmore product, you may feel anxious about Sears no longer being available to assist with your Kenmore appliances. However, it's important to know that Kenmore doesn't manufacture their own appliances. They rely on companies like Frigidaire, Whirlpool, Bosch, LG, and Samsung to make for them. So, if you have a Kenmore dryer, chances are it was made by Samsung or LG – Whirlpool. 
Let's determine the model number of your appliance.
If you are unsure how to locate it, please refer to our instructional video where we demonstrate where the model number can be found on each appliance.
Let's check what kind of issue your dryer has.
We identify the one major issues that may require you to replace your dryer instead of repairing it.
Reason 1.
The dryer is simpler than a washing machine, but finding replacement original parts for it can be tricky. If you can't find the original parts, substitute ones are available.
If your dryer is over 15-20 years old and has a timer issue, meaning you are unable to adjust the time, finding a replacement timer can be challenging. The manufacturer may sell you a timer, but it can cost around $300 to $400 for an older dryer repair. We highly recommend that you contact Reliable Parts or Amre Supply to see if they can find a new timer for you dryer. If these companies cannot help you, it is doubtful that we can either since they are major suppliers.
If your dryer is 10 to 15 years old and has an electronic control board problem, we can usually fix the board by resoldering relays. This fix works about 80% of the time.
How to Request a Service Call?
If you have been unable to determine whether your dryer is working properly, or if it is noize, and you would like a professional assessment of the problem at your home, please provide us with the following information when you contact us. This will be the final step in resolving the issue.
When contacting us please provide the following information,
Make and model number for your appliance. This is necessary so that the technician knows what he will need during the service call and brings the necessary equipment and parts.

Symptoms of the breakdown, for example, if the dryer does not dry properly or does not turn off or if you are experiencing issues with the dryer or need service.

Convenient time and day to book an appointment. Your name, phone number, and address.
You can contact us over the phone or send us email
What to Expect During a Technician Appointment Service Call: Press Play and Watch for Peace of Mind
Average Cost Of Dryer Repairs
The price of the repair depends on the cause of the breakdown, brand and the model of the dryer. This is determined after the problem is diagnosed by the technician. Below is a rough estimate of the costs.
| Malfunction | Cost Per Part |
| --- | --- |
| Replacing pile filters | From $78.75 |
| Button replacement | From $56.99 |
| Heat exchanger replacement | From $82.75 |
| Replacing the starting capacitor | From $45.69 |
| Belt replacement | From $87.99 |
| Replacing the support roller (1 pc.) | From $48.00 |
| Replacement of UBL (hatch locking device) | From $20.64 |
| Replacing the heater | From $82.75 |
| Temperature sensor replacement | From $46.64 |
| Humidity sensor replacement | From $50.64 |
| Fan replacement | From $67.15$ |
****Prices are only for the parts/components all repairs/labour are an additional fee.****
Dryer Repair Edmonton Gallery
GoTech Appliance Repairs – Edmonton 
Dryer Repair Service
Edmonton  (780) 994-4333
Established Company 
Edmonton Dryer Repair Master Technicians 
Technicians available for same-day or next-day service
Professional technicians trained by manufacturer standards
Service provided: Sherwood Park, Devon, Edmonton, St. Albert, Stony Plain, Spruce Grove, Leduc, Beaumont, Fort Saskatchewan, Morinville and Surrounding Area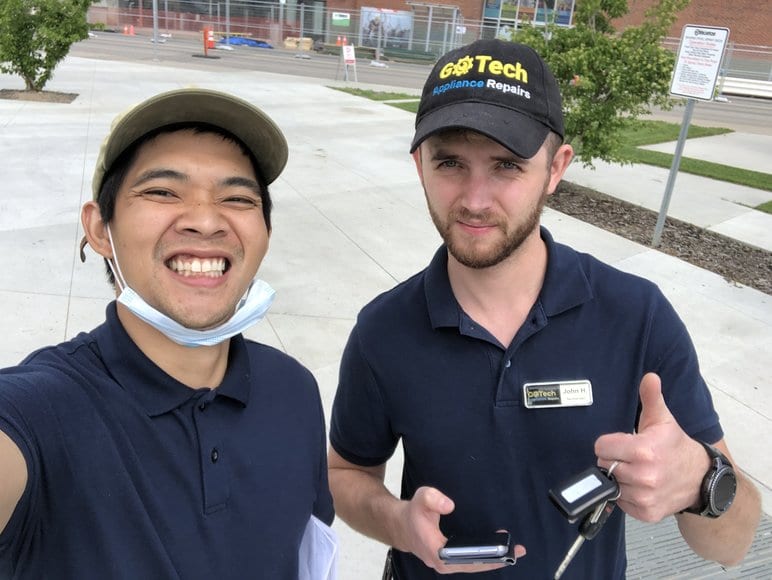 In this video you will learn How to Replace a Tumble Dryer Drive Belt (LG)
Frequently Asked Questions For Dryer Repair
Q. Do you offer same day dryer repairs?
Our professionals arrive quickly to any place in Edmonton and Calgary and we come prepared with parts and tools to get directly to work. We will likely repair your dryer on the spot when we have all the necessary parts for the most common repairs. 
Q. How to clean dye transfer of my dryer drum?
This is a typical issue and you should simply make a paste with some detergent (the powdered assortment) and warm water. Rub this paste within the drum before wiping off the buildup. Load with clean towels or garments and run a dry cycle to dry out the drum in the after the cleaning. 
Q.  When should I clean the lint trap?
Build up is a genuine fire hazard. Maintain a clean lint trap by removing the lint after each cycle.  
Q.Why is my dryer's cycle taking so long?
The primary reason for this is overloading. When there are numerous garments in your dryer, it will take longer for them to dry. Attempt lighter loads and, if this does not take care of the issue, call a specialist. 
Q. What's that scraping noise coming from my dryer?
Your dryer will usually run quietly yet in the event that you hear a loud noise, stop the cycle and explore the issue. This may be due to zippers or other foreign objects in the drum or there could be something more serious like worn rollers, gliders, or a damaged belt. These issues are best assessed by an expert. 
Q. Why don't my clothes smell fresh after drying?
If your garments don't smell so fresh after a cycle in your dryer, you can have a go at adding bounce sheets to each cycle to spruce them up. On the other hand, consider utilizing infant wipes with a drop or two of a fragrant essential oil.
Q. Have I overloaded my dryer?
The simplest method for deciding if your dryer is overloaded is by examining your garments after the cycle. If they are still wet or wrinkled, you ought to place a lighter load next time. 
Q. Why isn't my dryer spinning properly?
This could be because of an worn dryer belt. Replacing this part is somewhat difficult and is best left to the experts. 
Q. Why won't my dryer start?
The reason for this issue could be as basic as the entryway switch or there could be an motor issue. Once more, diagnosing and repairing these sorts of issues should be handled by a qualified technician. 
Q.  Why is my dryer not drying my clothes?
If your garments are taking extremely long to dry, your dryer could have a blocked venting hose. If this hose is even somewhat blocked, it can influence how quick your garments dry.
Q. Can I use my faulty dryer?
A defective dryer could introduce a fire hazard. Utilizing a flawed dryer puts you, your home, and your friends and family in danger should a fire happen. Regardless of whether there is no fire, your clothing could get harmed if your dryer isn't in appropriate working order. It's best to hang that clothing up for the present and sit tight for the repair technician to analyze and repair the issue. 
Q. What to do if my dryer breaks soon after repairs?
In the event that our team has performed dryer repairs and your machine encounters a similar issue, call us right away. Our guarantee covers all appliance repairs and we work quickly to resolve any issue. 
Q. How can I speed up dryer repairs?
Removing all laundry and ensuring the space around the appliance is cleared enables the technician to start the repair without any delays. Also refrain from doing repairs yourself.  You could exacerbate the situation and repairs will wind up taking much more time and they could cost more  in the event that you harm some other parts of the appliance. 
Q. What to do if my dryer needs a new part?
Our technicians come prepared with a variety of parts that solve the most common dryer issues. When the technician runs a full diagnostic of the appliance and they find they need a part that they may not carry with them, this will be conveyed to the client and a order will be placed. 
Q. Will my dryer be repaired right away?
We have all the essential parts stocked with our technicians, this ensures we finish repairs on the spot. In the event that there are any parts that may need to be ordered, we will advise on the time period before continuing.
   GoTech Appliance Repairs Edmonton
Dryer Repair Service
Edmonton  (780) 994-4333
Established Company 
Edmonton Dryer Repair Master Technicians
Technicians available for same-day or next-day service
Professional technicians trained by manufacturer standards
Service provided: Sherwood Park, Devon, Edmonton, St. Albert, Stony Plain, Spruce Grove, Leduc, Beaumont, Fort Saskatchewan, Morinville and Surrounding Area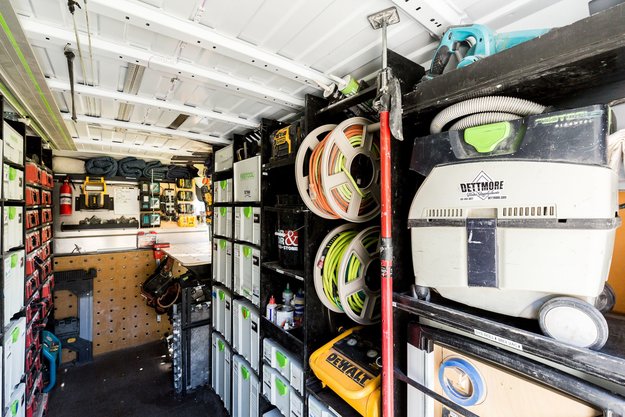 Sep 10, 2023
Fridge repair
Just had our refrigerator looked at by such a delightful young technician, John H. So pleasant, courteous and knowledgeable. Appreciated his honesty and time he took to explain everything to me. I would definitely recommend this company to anyone.
Sep 5, 2021
Right to Repair!
My Dacor oven was not heating properly. The baking element was not working. So, I went through numerous Youtube videos and repairs guides thinking it could be a quick fix. I tried the two easy fixes that I was capable of, but they did not work and I knew I needed a professional! I get right irritated when I am told the part I need is discontinued or the repairman does my same YouTube fixes and states "there is nothing more I can do, you need to buy a new appliance". Not so at GoTech! John is an electrician by trade so he can "see" your appliance differently, he spotted a short on my motherboard, whipped out a small replacement part, soldered it on, and "Viola" my oven works! Now John explained in great detail that yes the motherboard in my oven is discontinued, and he cannot guarantee his electrician genius will do the trick, but the cost of him giving it a try far outweighed me buying a new oven. Besides being a smart technician, problem-solving above and beyond what he needed to do, he is a wonderful human being and a great conversationalist! I took many business cards to hand out to friends!
Aug 8, 2021
Service on Maytag refrigerator
Diagnosis and replacement of the defective part was done quickly. Repairman was at my house within 24 hours, arrived on time, and repairs were finished in about an hour.
Aug 7, 2021
Great service
I was able to book a same day appointment, the technician (John) was very professional and explained the repair and costs in detail. They had the repair part and my appliance was fixed that day. Quick, and professional service, thank you so much.
Aug 5, 2021
John showed up at the scheduled time and was a complete professional and extremely helpful with our questions. We discussed our future plans for appliance
replacements and he offered some good suggestions which we will keep in mind when making our future purchases.