Repair of Washing Machines in Edmonton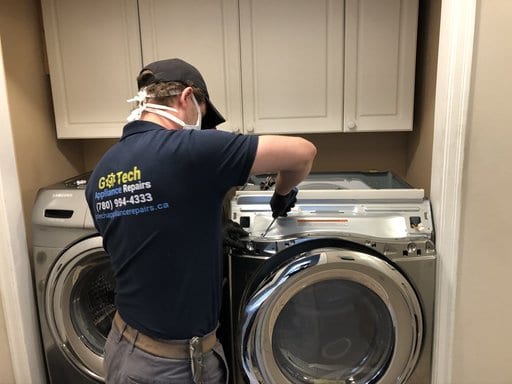 We appreciate your trust in us to repair your washing machine.
Before scheduling an appointment, let's discuss the details first.
We highly recommend that you thoroughly explore our entire page. 
We created this page to assist both you and us in determining if we can provide you with the necessary repair services. It is important to go through our step-by-step process before requesting service or contacting us. 
We certainly do not want to arrive at your house only to find that we are unable to assist you with your repair needs.
We need to confirm if we are capable of repairing the brand of your appliance.
I know you may be wondering how one company can repair all of these different brands.
The truth is that only a few manufacturers produce major appliances, such as Whirlpool, Frigidaire, General Electric, Samsung, LG, and Bosch, while other brands serve as substitutes.
If you own a Kenmore product, you may feel anxious about Sears no longer being available to assist with your Kenmore appliances. However, it's important to know that Kenmore doesn't manufacture their own appliances. They rely on companies like Frigidaire, Whirlpool, Bosch, LG, and Samsung to make for them. So, if you have a Kenmore washing machine, chances are it was made by Samsung or LG – Whirlpool. 
Let's determine the model number of your appliance.
If you are unsure how to locate it, please refer to our instructional video where we demonstrate where the model number can be found on each appliance.
Let's check what kind of issue your washing machine has.
We identify the top two major issues that may require you to replace your washing machine instead of repairing it.
Reason Number 1.
We always advise our clients that if their washing machine has a bearing issue, it's best to replace the machine. 
To determine if the bearing is the problem, listen for a loud noise during the spin cycle that sounds like an airplane taking off in your house. If you hear this, it's likely the bearing is the issue.
You can also try to move a metal top inside the washing machine to check for any tapping noises, which could indicate a broken drum spider.
If you observe any of these issues and are certain that your machine has a bearing issue, we highly recommend purchasing a new machine.
However, if you're uncertain whether your washing machine has a bearing issue, please call us to double-check your washer.
Reason Number 2.
If your washing machine is over 10-12 years old and you suspect it has an electronic control board issue, it is unlikely that we can find a new board. We highly recommend that you contact Reliable Parts or Amre Supply to see if they can find a new board for you. If these companies cannot help you, it is doubtful that we can either since they are major suppliers.
However, for some models, we may be able to resolder the relay on the board if it is not completely silicone. This could extend the life of your machine by a few more years. Unfortunately, for Samsung or LG washing machines with silicone electronic control boards, there is no way to make repairs.
If you want to take a chance and give us a call, we can double-check and see what options we have. There is a possibility that we can help you by resoldering the relay. Please feel free to contact us anytime.
How to Request a Service Call?
If you have been unable to determine whether your washing machine is working properly, or if it is leaking, and you would like a professional assessment of the problem at your home, please provide us with the following information when you contact us. This will be the final step in resolving the issue.
When contacting us please provide the following information,
Make and model number for your appliance. This is necessary so that the technician knows what he will need during the service call and bring the necessary equipment and parts.

Symptoms of the breakdown, for example, the washing machine does not wash properly or does not turn off or if you are experiencing issues with the washing machine or need service.

Convenient time and day to book an appointment. Your name, phone number, and address.
You can contact us over the phone or send us email
What to Expect During a Technician Appointment Service Call: Press Play and Watch for Peace of Mind
Average Cost Of A Washing Machine Repair
It is, of course, difficult to state the exact cost of repairs for a faulty washing machines  before it can be seen by a technician.
| Malfunction | Cost Per Part |
| --- | --- |
| Leaking | From $137.78 |
| The hatch does not open | From $79.99 |
| Does not heat water | From $97.56 |
| Does not drain | From $65.12 |
| Does Not Spin | From $100 |
| Very noisy | From $105.34 |
| Does not turn on (power) | From $168.34 |
| Does not fill with water | From $68.44 |
| The drum does not rotate | From $179.15 |
****Prices are only for the parts/components all repairs/labour are an additional fee.****
Washing Repair Edmonton - Gallery
GoTech Appliance Repairs – Edmonton 
Washer Repair Service 
Edmonton (780) 994-4333
Established Company 
Edmonton Washer Repair Master Technicians
Technicians available for same-day or next day service
Professional technicians trained by manufacturer standards
Service provided: Edmonton, Sherwood Park,
St. Albert, Stony Plain, Spruce Grove, Leduc, Beaumont, Fort Saskatchewan, Morinville and Surrounding Areas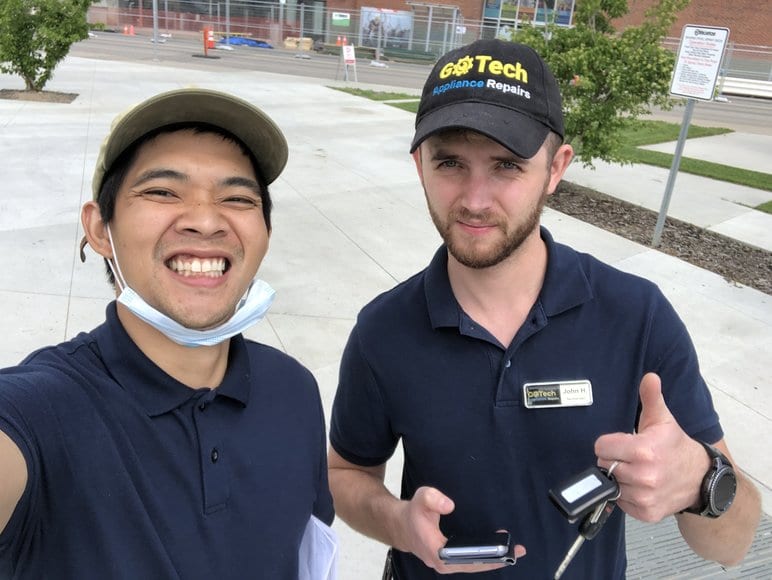 How to Replace the Washing Machine Door Seal
Frequently Asked Questions
Q. How long will the technician take to repair the appliance?
As a rule, any malfunctions are repaired at in-home within 1-2 hours. After that, your washing machine is ready to go. In particularly difficult cases of repair, it may take more time (for example, replacing the bearing) or waiting for delivery of an out of stock part.
Q. What happens after the repair? Is there a guarantee for the work?
After the repair, the technician will review with you what repairs were completed in order for the appliance to be fully functional once again. The technician will issue a warranty invoice for a period of 3 months up to 1 year. The warranty covers parts installed during the repair process and work performed. In the exceptional case of a repeated breakdown (in our experience, this happens very rarely), the washing machine is repaired under warranty for free.
Q. What should I do if the door on my washer won't open?
If the washer door does not open after the cycle is complete, it's more often than not because of a flawed lock system. Numerous washers have a manual release which can be found from under the door lock. Try this technique before calling  a professional.
Q. What's making my washer squeak?
This sound is normally caused by the pump belt. Because of standard wear and tear, the belt gets exhausted and it can wind up frayed or even split. Amid the wash cycle, you may hear a pounding or screeching commotion however this, luckily, is a simple fix for an expert specialist. 
Q. Which is better, powder or liquid detergent?
With such huge numbers of various kinds of detergents out there, it's hard to pick. Choosing between fluid or powder is more about your inclination and your families needs. Each kind of cleanser has its own advantages and disadvantages. For instance, if your garments are frequently covered with oil sprinkles, you might need to select the powder assortment.
Q. Why don't certain cycles work on my washer?
Your washer will have a few wash cycle alternatives. The issue is best analyzed by setting up which cycle is giving you inconvenience. For example, if your water heater is broken, it can make the hot wash cycle dangerous. The warmer should be replaced before you can utilize this cycle once more.
Q.  What is causing my washer leak?
The door is the usually the main cause of the washer leaks.  It's typically a result of a worn or damaged door seal. If the washer is leaking amid a cycle, you may need to call an expert since there could be a break inside the appliance itself. It's a good idea to check all the other washer hoses to make sure there is not an additional leak.  
Q. How to stop my washer from moving around?
This is a typical issue that can result in harm to the machine. The main thing to ensure is that the floor on which your washer is on is level. Next, you should check the legs of the washer to ensure that it too is level. You can also utilize some cushions under the legs to help retain the vibrations and give the legs more hold to diminish movement. 
Q. What if my washer is not filling properly with water?
Filters can wind up clogged after some time and this is one of the principle issues behind inability to fill. You can clean the filters first and check whether this fixes the issue. If not, call your washer repair expert for professional help. 
Q. Why does my washer have a bad smell?
The main source of the washer smells is the development of microscopic organisms inside the appliance. You may not see it but rather those spores are rapidly duplicating inside the appliance. Place some vinegar and baking soda inside your washer and run a wash cycle. This will get rid of the smell. To keep your washer from stinking, you should use a small amount of fabric softener and run regular vinegar and baking soda cleaning cycles. 
Q. Why is my washer not draining?
A clogged up drain pump is the main reason for this issue. The hose could likewise be clogged up so it merits checking while you're at it. Carefully remove the hoses and unclog them. If this quick fix does not resolve the issue, call a professional specialist. 
Q. Why is my washer not spinning?
This is more often than not because of a broken belt, engine issue, or an issue with the top switch. It's best to have an appliance repair expert perform the analysis and repairs. 
Q.  Who will repair my washer?
Our group of professionals is both qualified and experienced. When you pick us, you are guaranteed that your washer is in the best hands. 
Q. How long will it take to fix my washer?
We offer same day service this allows us to fix the appliance issue immediately. We gather as much information as possible over the phone so that our technicians are fully equipped with all the parts and tools necessary to provide a complete repair. When we arrive at your home we run a full diagnostic, thus determining the cause of the problem and we are able to complete the repairs on our first visit.  
Q.  How can I help speed up repairs on my washer?
The primary thing remember is too fight the temptation to dismantle your washer and discover the source of the issue yourself. Expelling parts can make it more troublesome and tedious for a specialist to make sense of the reason for the issue. The best thing you can do is ensure that your washer isn't impeded by anything and, if possible, remove any clothing. 
Q.  Are your washer repairs guaranteed?
All our washer repairs are under our certification with the goal that you can sit back and relax!
Call (780) 994-4333 for quick and dependable washer repairs.
Q. What to do if a load of laundry remains stuck inside my washing machine?
If your laundry is trapped inside the washer, and the door refuses to budge, it's best to leave the clothing right where it is. Try not to force the top open since you could wind up accomplishing more damage than anything else. Our professionals are able to help in this issue. Keep a clothing bin convenient with the goal that you can store your clothing when we open the door.
GoTech Appliance Repairs – Edmonton 
Washer Repair Service 
Edmonton (780) 994-4333
Established Company 
Edmonton Washer Repair Master Technicians
Technicians available for same-day or next-day service
Professional technicians trained by manufacturer standards
Service provided: Edmonton, Sherwood Park,
St. Albert, Stony Plain, Spruce Grove, Leduc, Beaumont, Fort Saskatchewan, Morinville and Surrounding Areas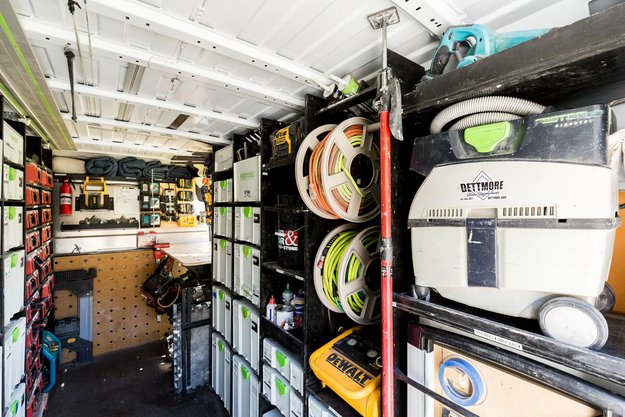 Sep 10, 2023
Fridge repair
Just had our refrigerator looked at by such a delightful young technician, John H. So pleasant, courteous and knowledgeable. Appreciated his honesty and time he took to explain everything to me. I would definitely recommend this company to anyone.
Sep 5, 2021
Right to Repair!
My Dacor oven was not heating properly. The baking element was not working. So, I went through numerous Youtube videos and repairs guides thinking it could be a quick fix. I tried the two easy fixes that I was capable of, but they did not work and I knew I needed a professional! I get right irritated when I am told the part I need is discontinued or the repairman does my same YouTube fixes and states "there is nothing more I can do, you need to buy a new appliance". Not so at GoTech! John is an electrician by trade so he can "see" your appliance differently, he spotted a short on my motherboard, whipped out a small replacement part, soldered it on, and "Viola" my oven works! Now John explained in great detail that yes the motherboard in my oven is discontinued, and he cannot guarantee his electrician genius will do the trick, but the cost of him giving it a try far outweighed me buying a new oven. Besides being a smart technician, problem-solving above and beyond what he needed to do, he is a wonderful human being and a great conversationalist! I took many business cards to hand out to friends!
Aug 8, 2021
Service on Maytag refrigerator
Diagnosis and replacement of the defective part was done quickly. Repairman was at my house within 24 hours, arrived on time, and repairs were finished in about an hour.
Aug 7, 2021
Great service
I was able to book a same day appointment, the technician (John) was very professional and explained the repair and costs in detail. They had the repair part and my appliance was fixed that day. Quick, and professional service, thank you so much.
Aug 5, 2021
John showed up at the scheduled time and was a complete professional and extremely helpful with our questions. We discussed our future plans for appliance
replacements and he offered some good suggestions which we will keep in mind when making our future purchases.