If you are an owner of the Wolf oven or range, it means that you prefer to invest in quality. Wolf represents the highest quality, luxury design, and innovations in kitchen appliances. GoTech Appliance Repairs is a team of professional. We know how much you love your Wolf oven or range, you can trust us this high-end appliance as it deserves the best service only.
Why you should choose GoTehc Appliance Repairs for Wolf appliances?
GoTech Appliance Repairs is specialized in repair services for both low-end and high-end appliances. In order to provide services for Wolf appliance, a special and vast experience is required. We are working 7 days a week. Upon your call, we will come to your house in Edmonton and the surrounding areas. Our technicians arrive with all the necessary tools and spare parts for precise services. All our customers will receive a satisfaction guarantee up to 12 months.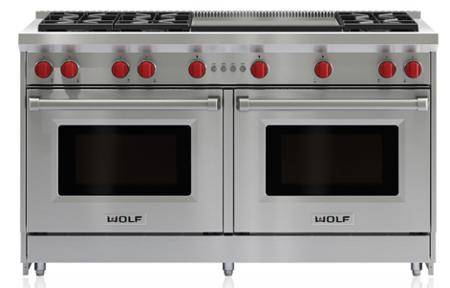 Wolf Oven and Ranges Repair
Wolf is a manufacturer of high-quality ranges and ovens. Their price is high, that is why you do need to have a reliable and accurate repair company. Only true professionals have to install, maintain, repair these high-end appliances. The innovations created by Wolf and design won the hearts of many chefs and food lovers. This company manufactures threes series of ovens, mainly M, E, and L series, the convection steam ovens, induction ranges and gas ranges.
Wolf M, E, and L Series Ovens Repair
The M Series
The ovens of this line is a real treasure as they can control the cooking process of the most popular dishes and new touch screen display. The heavy-duty ovens are made of stainless steel and have an advanced dual convection system. The capacity of the M Series appliances is impressive. The design is one more thing to mention separately since M series offers three different designs. No doubt, such professional kitchen oven needs only precise, reliable and professional repair services.
The L Series
The dual convection of L series oven brings the best results. The electronic control panel can be hidden when it is not used.  The temperature probe shows when everything is done. 10 cooking modes help to prepare the best dishes. In case of any breakage, we have all needed spare parts.
The E Series
The E series ovens offer the best wall ovens in the modern market. Their unique design in three different styles fits perfectly any kitchen. They are equipped with touch control panel made of stainless steel. The E series appliances have the functions like delayed start, Sabbath mode, self-clean, and 10 cooking modes.
It is such a pleasure to cook with Wolf Induction Ranges. The induction ranges made out of the best quality materials to last at least 20 years. We have all spare parts for replacement and maintenance the work of all Wolf models.
The top gas ranges manufactured by Wolf is a superb appliance in your kitchen. Yet if you noticed that something is out of order with your range, stop exploiting it and give us a call. Our specialist will perform the same day diagnostics and repair or replacement of loose or broken parts.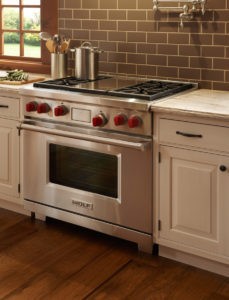 The cooktops of Wolf Dual Fuel Range are versatile. They are equipped with four or six powerful burners, dual convection, and 10 cooking modes. These features ensure fast and precise cooking. If any problems with dual fuel ranges occur, do not hesitate to call us. GoTech has all necessary spare parts for this type of ranges.