GAS & Electric Fireplace Repair in Edmonton Service
A technician will visit to diagnose the problem. Minimum $89 fee is charged for the call-out in Edmonton.

First the technician will ensure safe operation of the fireplace.

A report will be provided outlining the condition of your fireplace and any required repairs

A quote will also be provided for the repair service, and if accepted, repair can be completed same day. (upon availability of parts)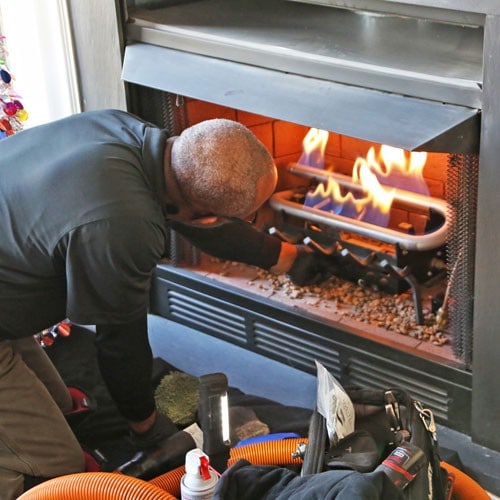 Extensive 17 Points Service
Through inspection of all parts. Disassemble as required

Test for leaks

Ensure tightness of hardware

Check thermocouple & thermopile

Connection check for all wiring

Clean enclosure

Clean thermopile & thermocouple

Inspect and clean off any combustible materials

Clean and inspect blower

Test controls and circuitry

Test for carbon monoxide

Verify airflow

Replace embers if needed

Measure thermocouple voltage

Adjust gas pressure

Verify switches, remote & receiver

Check proper venting
Locally owned and operated in Edmonton.
Fully insured and guaranteed work
Top notch service from our professionally trained technicians
We treat our customers like family
Best repair rates available in the city
We accept Credit Card & Debi – Cash 
The fireplace in your home brings a warm and cozy atmosphere and is quite an entertaining piece for guests when it works! In Edmonton, there are three main types- gas, electric and wood-burning. We service all types and if you are privileged of having one built in your home, we would be honored to provide you professional diagnosis, maintenance and service for your fireplace needs. A professional tune up and safety check can prevent poor venting and smoke eliminating risk of dangerous air, or worse- fire in your home.
Most Common Fireplace Issues
Fireplace pilot won't stay on

Fireplace burns with yellow fire

Fireplace won't spark

Fireplace only intermittently working

Fireplace only works momentarily

Residue on the fireplace cover.

Fireplace burns with strong odour.

Fireplace fan is not working.

Fireplace won't start.
Fireplaces are wonderfully warm and just great to enjoy with your family when it's too cold out or when you're enjoying the holidays. If you want to keep enjoying your fireplace for many years to come, check these safe practices so you don't hurt yourself while doing so!
Never leave a burning fireplace unattended

If you smell something irregular, turn off the fireplace gas supply immediately. Contact us to have a technician perform a safety check of your fireplace.

Any type can get extremely hot. Don't let anyone other than the operator to touch the fireplace and controls.

Stay at least 3 feet from the fireplace while relaxing. Too close for extensive periods could potentially cause burns.

Ensure you have fully reviewed the owner's manual and know the proper operation of the fireplace. If wood burning, ensure vent/chute are clear and screen operational prior to start.

Use safe barriers/screens for pets and kids

Only use your fireplace as intended.

A bit of cleaning after each use can lower the chances of parts failing and reduce risk of unintentional fire.
Frequently Asked Questions
Do I need to service my fireplace often?
Your fireplace should be inspected by a licensed technician annually to ensure safe operation.
My gas fireplace isn't hot enough.
You can try cranking the thermostat or flame size. A blower fan can also be added to your system to increase heat distribution. Contact us for a quote today!
Is it expensive to fix my fireplace?
Cost of repair varies as every fireplace is unique. Luckily, we have the best prices in Edmonton.
It is summertime and I don't use my fireplace. Do I need service now?
We recommend turning your pilot off to reduce wear and tear. Summer time though is the most ideal time to maintain the fireplace, as you have time to have issues fixed before the winter months starts rolling in. In Edmonton, that can be any month!
Why does my pilot light keep dying?
Usually due to a weak thermopile or low gas pressure. Best to have a technician diagnose to ensure safe and efficient operation.
I can't get rid of the white build-up on the glass enclosure.
We are equipped with the proper non-toxic & non flammable cleaner to remove this for you. We can also perform our standard service and safety checks as well.
Why is my fireplace not turning on at all?
This can be due to many different reasons depending on your fireplace type, model, and age. The best thing to do is call us and have the experts take care of the rest.
My fireplace smells like eggs.
This is not a question, but an excellent observation. What you have is likely gas leak. Turn your gas supply off to your fireplace if possible and book us immediately to ensure this leak is remedied.
Can I just buy part? I know the pilot assembly is what I need.
As our due diligence for our customers, we must provide a complete and full system check when servicing your fireplace. Although it may seem that only one part is required, there may be other areas that require attention to improve safe operation. We are able to provide parts along with a full service only.
What type of fireplace do I have?
If you have a burner, you most definitely have gas. A vent lever, my indicated natural wood burning. Remote with faux flame is often electric. We can service them all!
What maintenance do I need?
Gas fireplaces for example emits carbon and settles on the enclosure, parts and glass. This must be regularly maintained to prevent part failure. To ensure safe operation though, a thorough inspection annually or first-time use is highly recommended. Different types, all require unique set of checks. 
The power is out. Can I still use my gas fireplace?
That's terrible news. I'm sorry to hear. Good news is that yes you can! (in most cases with gas and natural wood of course) Gas fireplaces are typically equipped with thermopiles that convert heat to power the control system. So long as your gas is available, you can get that gas fireplace going. 
I have a gas fireplace. Can I burn real wood in it?
Please no. Gas fireplaces are not designed for wood burning. If you do this, you can cause serious damage to your fireplace and imminent danger to the occupants of the home.
I smell a strange dry burning smell.
Likely just dust burning off if your fireplace is new or hasn't been operated in a long time. We would recommend an inspection just to ensure all is fine. Try to clean the stack and check your vents. A bit of TLC goes a long way.