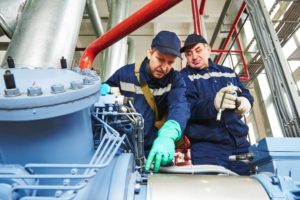 Gotech Appliance repairs  Experts will help you with any type of repair service
In case you are running a business related to the foodservice industry, you are supposed to have a Commercial Freezer – Cooler in good working condition. Proper technical support will save you from a costly repair service. Contact Gotech technicians at once to avoid your business crash. 
You can schedule an appointment at any appropriate time, and we will come without delays. We are always ready to help. After work, we will keep the place clean. Trust our specialists, they are the best in the business.  
If you want to repair your Commercial Freezer – Cooler with Gotech,
We know all kinds of Commercial Freezer – Cooler. It is not a problem for us to provide the repair service for any of them. Commercial Freezer – Cooler keeps products at temperatures within -10 and 0 degrees Fahrenheit. These temperatures help to keep food products in good quality and to avoid the emergence of bacteria. Gotech will repair your Commercial Freezer – Cooler in case of any type of breakdown.
 It will only take a couple of hours to Repair the Commercial Freezer – Cooler.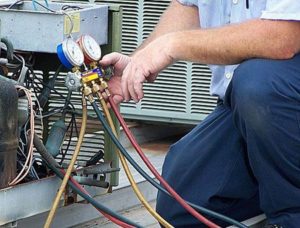 The speed and quality of repairs are also affected by our availability of components and spare parts. Timely maintenance and prompt repair of refrigerator cabinets allow our customers to avoid large material costs caused by equipment failure.
Failure of the functioning of the refrigeration equipment requires the operative intervention of a specialist who is able to make the necessary repairs. If this equipment is located in Edmonton or the Edmonton region, the best way out of this situation is to call a team of professionals from the company "GoTech Appliance repairs". Our specialists have extensive experience in repairing refrigeration equipment.
According to statistics, breakage occurs quite often. This is due to the relatively intensive use of this equipment. In addition to the failure of the units themselves that produce cold, there are also the following problems:
failure of the condenser fan motor;
leakage of refrigerant and reducing its pressure;
 electronic module malfunctions;
clogging of the condenser (radiator);
clogging of drainage.

Reach-In Freezer. It looks exactly like a refrigerator, because of its upright position, and consists of numerous sections. Gotech specialists are experienced in fixing this type of freezers. 
Walk-In Freezer. It is suited for the foodservice businesses in which it is necessary to have a lot of iced space. We know that problems with a walk-in freezer cause inconvenience for you and your business, so we will check it, diagnose, and solve them as quickly as possible. 
Refrigerated Prep Tables.  If you are involved in a business within the foodservice industry, freezer prep tables are its integral part. These tables increase the speed of your cooking as well as its productivity. We can also fix your sandwich/pizza prep table and steam prep tables.
Under-Counter Freezer. Such appliance looks and functions like a reach-in freezer, but it is shorter. If you require help to get your equipment mended, you can ask our technicians.
Merchandising Units. Such devices display products through a glass door. Do you have problems with these units? Contact our Gotech specialists, they will solve any problem as quickly as possible.
The experienced team of "GoTech Appliance repairs " company will perform emergency repairs as soon as possible, restore all the main functions, and launch the Commercial Freezer – Cooler. We carry out repairs of all types of complexity, determine the causes of their occurrence, and take preventive measures. The work process consists of Troubleshooting, determining the feasibility of carrying out restoration work, directly repairing, setting up the equipment, and starting the equipment.
An important point is a fact that we give a guarantee for up to 6 months after the repair work.
The cost of repair Commercial Freezer - Cooler
The company "GoTech Appliance repairs" in the course of its activities uses an individual approach to each client. Our hotline managers will provide free and competent advice on the operation of refrigeration units, possible causes of malfunctions, rules of operation of refrigeration equipment, the cost of commissioning, installation, and diagnostics services. The cost of repairing Commercial Freezer-Cooler is also determined individually, depending on the nature of the failure.
Repair vs. Replacement 
Sometimes, under certain circumstances, you have a choice to repair or to replace the Commercial Freezer – Cooler. Gotech technicians will help you to make the right decision. We will provide you a fair price with no hidden fees. We have all the freezer parts and tools to repair the equipment. Do not waste your time, call us today at (780)-994-4333.
Commercial Freezer - Cooler service
Service provided by "GoTech Appliance repairs" will help to increase the service life of Commercial Freezer – Cooler. Uninterrupted operation of the refrigeration unit is a guarantee of the safety of the organization's food resources. The consequences of an unexpected failure of the Commercial Freezer-Cooler can be disastrous. This is not only a significant material cost from product damage, but also losses associated with equipment downtime during repairs, spending on the purchase of new food, the purchase of spare parts, and the repair itself. And the cause of all this disaster could be the need to replace some minor detail.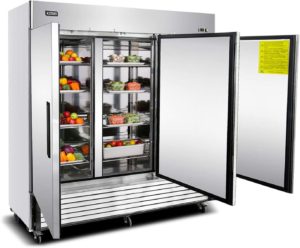 In the course of preventive measures, our specialists check the performance of the entire system as a whole, individual units, and structural parts that affect the smooth operation of the entire cooling system. Identifying individual parts that have become unusable or worn out, gives you a chance to replace part of the structure in a timely manner and avoid sudden failure of all equipment.
GoTech Appliance Repairs company is aimed at long-term mutually beneficial cooperation and conclusion of a contract for long – term maintenance of Commercial Freezer-Cooler.
Advantages of this approach:
we have our own material and technical base;
 We have highly qualified employees and craftsmen;
We provide a guarantee for all work performed;
All replacement parts have a warranty period;
Loyal pricing policy.