Appliance Repair Calgary Does It All
Fridge, Stove, Oven, Washer, Dryer at your Home
Hello, Dear visitor at Calgary Appliance repair!
I, Denis Sorokin The CEO  of LLC. "Help Repair" appliance repair Calgary.
"Help Repair" is the oldest Calgary workshop. Already the second generation of Albertans repairs equipment only in our country.
We are continuously developing and expanding, and have now opened more branches in Edmonton, and Calgary.
Why should you contact us for repairs? Well, read below…..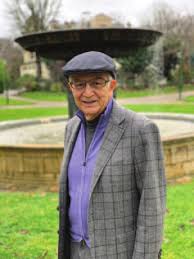 Need Repairs? "Gotech Appliance Repair " is waiting for you and ready to help!
We welcome your visit to our Help Repair appliance repair Calgary website and express our deep confidence that here you will find all the information you are interested in and detailed answers to all your questions.
As a rule, the Help Repair appliance repair Calgary office is usually contacted when there are various problems and difficulties associated with a sudden malfunction of household appliances. Failure of household equipment, without which it is impossible to imagine modern civilized life, is always accompanied by discomfort and brings various troubles. In conclusion, no matter what household appliances fail — a washing machine of the latest generation or a refrigerator with the latest cooling system-our qualified specialists-professionals in their field – are always ready to help, quickly and, most importantly, efficiently eliminate the problem.
Appliance Repair Calgary Has A lot To Offer
1.  GUARANTEE
We always provide documents about the completed repair, payment, and warranty.
2. EFFICIENCY
Your order will be accepted and processed within 15 minutes. We have masters in all areas of the city, so your specialist will come to you in 2-4 hours at the most!
3. HONESTY
The repairman will announce the price of the repair before it starts, and will not surprise you with an exorbitant amount after it ends.
4. YEARS OF EXPERIENCE
Over a long period of successful work, we have developed a work tradition that we will continue to follow in Calgary.
5. PROFESSIONALS
"Help Repair" appliance repair Calgary technicians are reliable, experienced, and professional.
6. POLITE
Our employees are not only real experts, they are always polite and well-mannered people. Respect for customers is the credo of the "Help Repair" appliance repair Calgary. That is why our masters always have with them a change of shoes or shoe covers, and also clean up the garbage after repairs.
7. NEW SPARE PARTS
Masters use only new spare parts. The old ones remain with the owners of the equipment.
8. WE REPAIR ANY APPLIANCE!
No matter what household appliances fail, a washing machine of the latest generation or a refrigerator with the latest cooling system-our qualified specialists-professionals in their field – are always ready to help, quickly and, most importantly, efficiently eliminate the problem.
9. CUSTOMER CARE DEPARTMENT
Our quality department monitors the workflow from the moment the order is accepted by the dispatcher until the repair is completed. If you do not like something in the service, you can leave a complaint, and action is guaranteed to be taken!
We Are Proud Of Our Clients and Employees
I am proud of the company that I run, and I do everything in my power to help appliance repair Calgary repair workshop continue to help people in need. The breakdown of the household appliance for busy homes can cause real problems. We can not choose just one appliance that is important, because they are all important to run our lives smoothly: refrigerators, washing machines, kettles, irons are necessary to us as air.
And I see the main goal of my activity is to eliminate people's lives the discomfort caused by a malfunction, and, therefore, to give joy and to make our customer lives a little bit better. I and the company's employees are attentive to all the comments and wishes of our customers and take them into account in our work.
Here, in the reviews section, you can get acquainted with customer reviews of our work, as well as customer opinions about our company Help Repair appliance repair Calgary. We would like to draw your special attention to the objectivity and reliability of the information contained in this section. Observing the principles of an honest business partnership, our company honestly provides an opportunity to get acquainted with both positive and negative reviews about us.
Rapidly and dynamically developing, our company Help Repair appliance repair Calgary constantly replenishes its friendly professional team with new qualified employees. We are always happy to provide work to highly educated and experienced professionals.
Information about available vacancies of the company can be found in the section "Work with us". During the time of honest and productive work in the market of Calgary services, the company Help Repair appliance repair Calgary has gained well-deserved respect and popularity among the residents of the city. High quality of services, strictly individual approach to each customer and each order, emphasized courtesy and high professionalism of employees will meet you when contacting the office of the company "Help Repair".
In an effort to create maximum comfort for our clients, we have created, in our opinion, a very convenient Internet resource and a mobile app for it. Their main advantage is that they are informative.
On the site, you can not only find the necessary information but also apply for a call from a consultant, who will contact you no later than 5 minutes after the request.
We are glad that you have made the decision to learn more about our company and we hope that getting acquainted with our site will be the beginning of long and mutually beneficial cooperation.
Detailed information about the services provided by "Help Repair" and their cost is contained in the price lists published on the official website.
And let your life become comfortable! Contact us!
Appliance Repair Calgary - We will fix the Refrigerator in 4 hours after your call!
1. Professional and reliable technicians
2. We do not take prepayment!!! Low prices and discounts for Seniors!
3. More than 25,000 refurbished refrigerators since 1992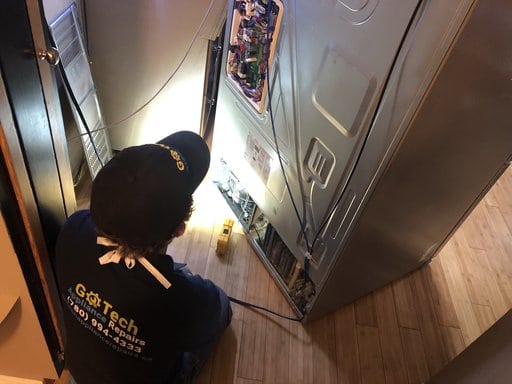 What Is Included In The Cost Of Repairs
The departure of the master to any point in Calgary

"Help Repair" appliance repair Calgary  (who specializes in the brand of your refrigerator and serves your area, will come to your home at a clearly appointed time. The company "Help Repair" employs technicians in all areas, which allows us to send a master who lives as close to your home as possible, and perhaps even your neighbor, whom you constantly meet in the yard.

Complete diagnostics of the refrigerator with special equipment

The technician will perform a mechanical check of your refrigerator on 56 points from start to finish. The technicians will check each spare part to determine the fault.
Prchase, delivery, and replacement of spare parts

The master will select the original spare part or suitable for your refrigerator in all parameters (if the original parts are removed from production).

Testing the refrigerator

After the repair, the master will test and perform a full run of the entire heat exchange cycle in the refrigerator system.

Defect certificate and the largest warranty in Canada – up to 1 year

The master will issue a certificate of the defect with the company's seal. You will get an extended warranty for the work of the master up to 1 year, at the moment it is the largest guarantee in Canada!
Appliance Repair Calgary - Prices for Refrigerator Repair
| Type of service | Cost |
| --- | --- |
| The departure of the technician to your home | Free |
| Visual diagnosis | From $79 |
| Diagnostics with a full analysis of equipment | From $110 |
How to repair a refrigerator yourself?
The refrigerator does not turn on:
Check whether the plug is plugged in.

Make sure that there is electricity. If the light bulb does not light up when opening the door, turn on the fuse in the electrical panel, if it is knocked out.

If the refrigerator is still not working after turning on the fuse, there may be a problem with the outlet. Connect another device and see if it works.
If the refrigerator has a display, see what it says. If demo mode is active, turn it off. In this mode, the light bulb is lit, the display is lit, but the refrigerator does not work. Sometimes the refrigerator is delivered with the demo mode enabled by mistake. Also, this mode is often accidentally enabled when wiping the display with a cloth.
The refrigerator doesn't produce ice:
Remove the blockage: disconnect the hose and rinse under water pressure. Also, the filter can interfere with the operation, inspect it, and replace it if necessary.

Reconnect the hose if its level is lower than it should be.

Inspect the hopper thermostat and check that the shut-off valve is open, as well as the condenser, fan, and solenoid valve.

Check whether the ice maker switch is on. If it is in a working position but does not function, it is most likely broken. Check with a multimeter. If the continuity is broken, replace the switch.

Also, check the thermostat of the ice mold. If the continuity is broken, replace it.
Couldn't handle it yourself? Appliance Repair Calgary Will Help You!
    If you notice that the refrigerator makes strange sounds, the door seal is torn or the light bulb is out of order, you can should call our company for instant service.
    If an ice growth of frightening size has formed, the refrigerator leaks or stops working at all, it's time to call Help repair appliance repair Calgary and order repairs.
What do the appliance repair Calgary masters most often have to fix?
Strange Sounds from the refrigerator
The door gasket is damaged
The refrigerator light bulb does not light or needs to be replaced
The refrigerator is leaking
The refrigerator does not produce ice
Water does not enter the ice generator
An ice build-up
The refrigerator consumes too much energy
The refrigerator compressor does not work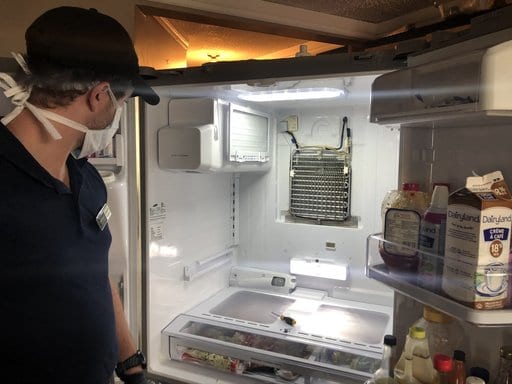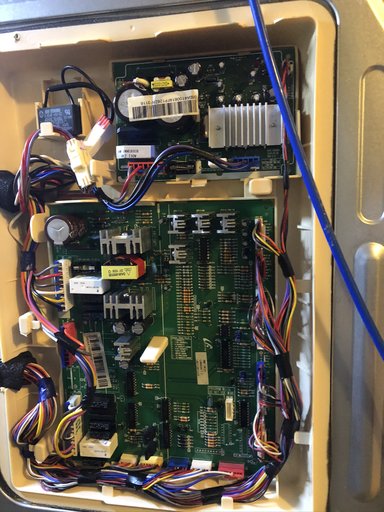 Of course, there are other problems with refrigerators. If you have a problem that we didn't mention
Appliance Repair Calgary - Do you know where to go in Calgary to get your Washing Machine Repaired?
We are ready to become a beacon for you in the vast and confusing area of the appliance repairs. After all, literally at every step, you can be ambushed by  "masters" who are just waiting for an opportunity to trick you.
Who are we? We are  "Help Repair" company that has made a name for itself in the world of repair from scratch and today is one of the leading firms in the market of Calgary and Edmonton area. Furthermore, all our years of experience will continue serve the benefit of the residents of Albertans.
If your washing machine suddenly stops working, do not despair. Just dial the short number (403) 889 -9878 on your phone and tell our operator about the breakdown. Before you call the master at home, you can get advice over the phone. After all, our qualified specialist will tell you what ways you can solve your problem.
Appliance Repair Calgary - 3 Reasons Why We Specialize in
Reason #1
We have been engaged in repairs (including repairs of washing machines) for more than 10 years. Believe me, we didn't waste any time. Now our specialists have experience in repairing washing machines of AEG, Ariston, Electrolux, Brandt, Beko, Daewoo, Gorenje, Sanyo, Favorit, Bauknecht, Euronova, Candy, Bosch, Indesit, LG, Siemens, Samsung, Zanussi, Whirlpool, Libher brands.
Reason #2
You will not have time to blink an eye, at your request will be assigned to the master who is closest to You. And it will not be a random master, but one who specializes in washing machines of your brand and model. How do we do this? Unfortunately, we can't put all our cards on the table. But believe me, we know how to quickly find a specialist who will cope with your task at once or twice.
Reason #3
We are used to doing business honestly. For you, dear and respected customer, this means that the final cost of repairs will be reported to you by our master before the start of the work itself, and not at its completion. Everything is fair. If you are satisfied with the final amount, you agree to repair, and our specialist starts working. Thus, you are insured against unpleasant moments when at the end of the repair you are asked for an amount twice as much as was originally agreed.
Prices for Washing Machine appliance repairs Calgary
| Type of service | Cost |
| --- | --- |
| The departure of the technician to Your home | Free |
| Visual diagnosis | From $79 |
| Diagnostics with a full analysis of equipment | From $110 |
Appliance Repair Calgary - Electric Stove broke down and you don't know where in Calgary to repair it?
And, as is often the case, the stove failed at the most inopportune moment. But do not despair! After all, you were on the website of the company "Help Repair". This means that your broken electric stove will have a long and happy working life. And at the same time, you do not have to take a bank loan to pay for the services of our masters.
Pick up the phone and dial our number
(403) 889-9878 and tell our operator what happened to your electric stove. After that, the appropriate master specializing in your brand model will be determined for your request. You will set a convenient time for you and our specialist will arrive with you exactly on time.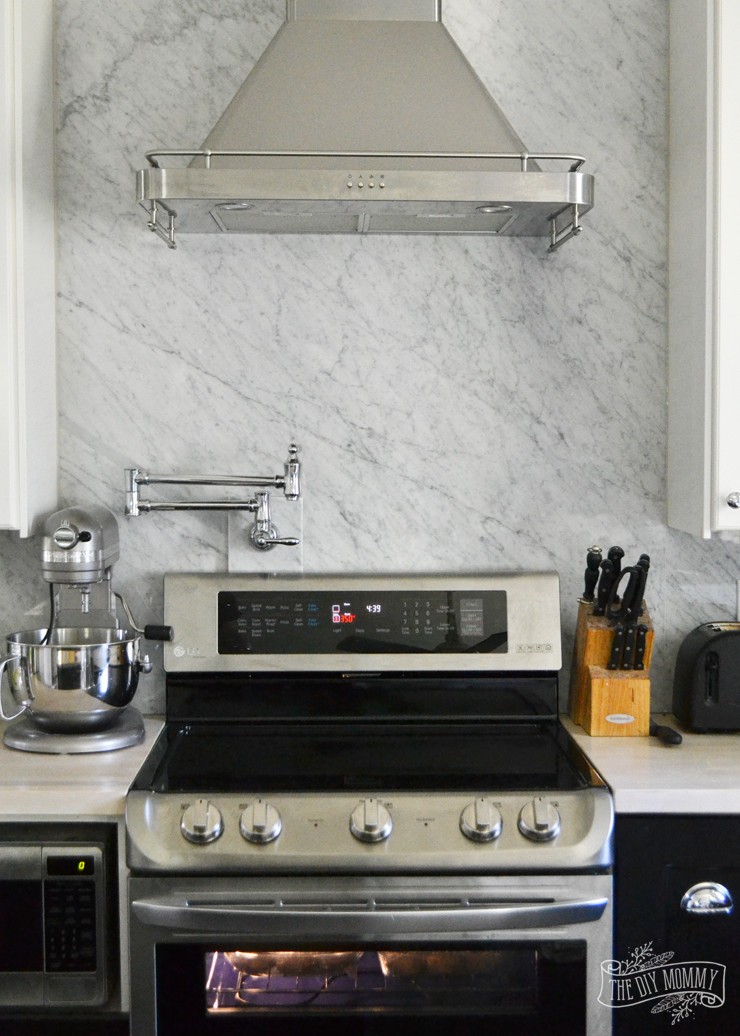 Appliance Repair Calgary - 3 good reasons to ask for help in
"Help Repair" knows it's business.
After all, we are the leaders of the repair market in Calgary and the region. Also, all the experience we have accumulated over more than 10 years of successful work is available to residents of the Calgary and Edmonton area. If the electric stove breaks, you do not need to bring bulky equipment to the service. In short, the service will come to you and fix the stove where it is.
Own spare parts warehouse.
We are familiar with the red tape that usually occurs when the necessary spare parts are not available. You have to wait for details for weeks, while customers are forced to cook food in the microwave and look at the lifeless electric stove in the kitchen with sadness. To avoid this scenario, we have created our own spare parts warehouse, which stores the necessary parts for electric stoves of almost all possible brands and models.
"Help Repair" is not used to deceiving people.
Our scheme of work differs in that we always inform you in advance of the final cost of repairs. The master will not start working until you know the price and give him your consent. This approach to business management leads to a large number of grateful clients, more than half of whom later become permanent. We do not intentionally remove negative comments from the reviews page. After all, in the repair world, it is so usual that if you do not have dissatisfied customers, then you are either lying or not working. There are and always will be dissatisfied people. But our duty is to try to help absolutely any person who has asked us for help.
Important Information For Appliance Repair Calgary Residents
Of course, this is your right. But it is our duty to warn you. Private masters often promise to fix your stove for a mere penny, but in fact, an overly economical client will pay many times more than the pre-agreed amount. The fault is the lack of qualifications of a private "specialist", or his initially bad intentions. Of course, such masters do not give any guarantee for their work. In case of repeated problems with the stove, you will need a lot of effort just to find the master who fixed it…
Therefore, we strongly recommend that you contact large and time-tested companies. This way you will at least be insured against failures and save your hard-earned money. In the case of "Help Repair" everything is much simpler. We are not afraid of obligations and give all our customers a full year warranty for the work of the master and up to four months' warranty for replaced parts. In this case, you do not risk anything, because, in the case of a repeated malfunction, we take all the costs on ourselves.
What could happen to your appliance repair Calgary
Hot burners are overheated.

The oven does not heat up.

Your stove's electronics failed.

Heating element broke.

The power cord is damaged, or the socket is faulty (we can also deal with this).

Contacts points were shorted.
The fault may be a short circuit, voltage fluctuations in the power supply, liquid getting on the circuits and boards, careless handling of the stove, or falling on it heavy objects. In any of these cases, you will be helped by experienced specialists of "Help Repair", who are able to quickly solve problems of any complexity.
Appliance Repairs Calgary - Prices for Electric, Gas Stove, Oven
| Type of service | Cost |
| --- | --- |
| The departure of the technician to Your home | Free |
| Visual diagnosis | From $79 |
| Diagnostics with a full analysis of equipment | From $110 |
Why do people turn to appliance repair Calgary for gas stoves?
There are a number of good reasons for this…
Help Repair — Professional Company
Many Calgary firms today are rude and completely disrespectful to their customers. Here in the cultural capital of Canada, it is not customary to be rude to visitors. On the contrary, we value and love our customers. You don't owe us anything. And we understand that. Therefore, we try to bring a culture of communication with customers to the Canadian market. See for yourself by contacting us for help.
Our employees are a large and friendly family
Only in this case, the repair process will be easy and will save customers from unnecessary hassle. Of course, quarrels occur from time to time in every family. But we can reduce them to a minimum. How? We place very high demands on each of our specialists. Plus, to have a solid experience of successful practice. And also, be able to find solutions to even seemingly unsolvable issues.
All "Help Repair" specialists without exception have the necessary level of competence in repair issues
When repairing gas stoves, special safety measures must be observed, since gas is an explosive substance and careless handling of it can lead to an explosion… Our craftsmen know how to repair a gas stove and keep you and your neighbors alive.
You live in Calgary and your gas stove is out of order?
Urgently call the gas service, otherwise, an explosion may occur!!!
Stop, stop! We are joking… If you don't smell gas in the kitchen, then nothing terrible has happened. Better call in the "Help Repair"! Our experienced and careful craftsmen will be able to repair your gas stove.
What does it take? Just call us at (403) 889-9878 and inform the operator about the breakdown. After that, a specialist who is competent in the repair of plates of your brand and model will be determined for your order. Before the master goes to you, he will be able to give advice on all your questions.
What could have gone wrong with your gas stove?
There is an opinion that gas stoves are much more reliable in operation than electric ones. By and large, it is. But even with gas stoves from time to time, there are troubles of varying degrees of severity.
So, for example, due to constant contact with fire, the burners and upper grilles of the stove fail. In addition, you may need to adjust the gas supply or adjust the burner or nozzles. In addition, over time, temperature control valves, as well as hoses and gas supply valves may need to be replaced.
Some troubles also haunt the ovens, which may require their replacement. With all this list can easily cope with competent "Help Repair", whose account has more than one hundred saved gas stoves.
Prices for Electric, Gas Stove, Oven repairs in Calgary
| Type of service | Cost |
| --- | --- |
| The departure of the technician to Your home | Free |
| Visual diagnosis | From $79 |
| Diagnostics with a full analysis of equipment | From $110 |
Appliance Repair Calgary - Live in Calgary and Your dishwasher broke down at the worst possible moment?
For a resident of Calgary, there is nothing more terrible… After all, the dishwasher in the realities of modern life has become almost a vital assistant in everyday life and economy. There is no need to talk about how much of your time and effort this household appliance can save…
Therefore, in no case should you delay the repair of the dishwasher! After all, you are only throwing away your potential free time. Another question is, where in Calgary can I go for help? After all, a dishwasher is not as simple as it seems. And only a true master of his craft can accurately determine the cause of the failure and return the unit to its original form. These are the people who work for us in "Help Repair"!
To quickly and inexpensively fix the dishwasher in Calgary, dial (403) 889-9878 and tell our dispatcher about the problem. Then your request will be assigned to the nearest master who will contact you and give you the necessary advice in your case. After that, we will go to you for troubleshooting your dishwasher.
"This is the first time I heard the name "Help"… Why should I believe you?" - we will not be surprised if such a thought flashed through your head…
Reason #1
On our website you can find a lot of positive feedback from our customers, they used our services and did not regret it. Every day the number of our regular customers is growing, but our plans are even more ambitious… At least — enter the list of top repair firms in the capital.
Reason #2
"Help Repair" employs specialists who know their craft not only from the pages of colorful textbooks and manuals. And, as a rule, always come out victorious from fights with any electronic and other household opponents.
Reason #3
We are truly proud of our origin! In "Help Repair" it is customary to be polite. And we expect the same from our customers. One of our goals is to increase the service culture in the entire Calgary repair market.
What could have happened to your dishwasher?
Most often, dishwashers fail due to illiterate operation. The trouble is that many people think that such machines are able not only to wash dishes but also to remove various garbage from it, such as papers, bones, and other things. But this is not the case. And this practice often leads to serious breakdowns.

The second common cause of breakdowns of dishwashers is independent and not always correct installation. Despite the deceptive simplicity of the process of putting the dishwasher into operation, it is better to entrust this matter to professionals. This way you will ensure yourself against unpleasant breakdowns.

For a long period of operation. Even the most high-quality and expensive dishwasher needs periodic maintenance and repair. If you don't do this, you may have much more serious problems.
Appliance Repair Calgary - Prices for Dishwasher Repair
| Type of service | Cost |
| --- | --- |
| The departure of the technician to Your home | Free |
| Visual diagnosis | From $79 |
| Diagnostics with a full analysis of equipment | From $110 |
Play Game and Get Up To $30 Discount
How To Play
Locate the words listed on the right side of the page, running in one of the possible directions: horizontally vertically, or diagonally. Click on the first letter of any one of the hidden words then on the last letter of the word. The faster you find the words, the higher discount you get.
Show the picture to your repairman
Do not forget to make screenshot or a photo of your discount before closing the window.
[game-wordsearch id="2914" ]
May 5, 2021
John showed up at the scheduled time and was a complete professional and extremely helpful with our questions. We discussed our future plans for appliance
replacements and he offered some good suggestions which we will keep in mind when making our future purchases.
Apr 8, 2021
My Whirlpool fridge was running constantly. John skillfully diagnosed the problem, described in detail how the system should work, and explained which part needed replacing. He was also honest when it came to keeping the current fridge vs buying a new one. I would highly recommend GoTech and John to anyone requiring their appliance serviced.
Mar 28, 2021
Excellent Service
We had Dennis visit us today to repair the burner on our oven. He arrived ahead of schedule which was great. He had the job done in under an hour and even cleaned the oven while he was there. We were very pleased.
Feb 21, 2021
LG Stove
Booking was quick and easy. Dennis the service man was here within a few hours, was quick and efficient. Knew exactly what was wrong. He did not have the part with him but went and picked it up and completed the job.
Feb 21, 2021
Freezer
What a pleasant person Mike is. He was here when he said he would be and worked quickly and explained the problem clearly. I would definitely refer him/and the company to anyone . Thank you.